It is now overwhelming reported that the release date of Samsung Galaxy S4 is being delayed due to storage issues. Pre-orders for the handset have far outstripped the availability in the US and the UK and as a result many shops have to delay the sales dates for the S4. The strong global demand for the Samsung's latest flagship smartphone gives us a hint that the accessories for Samsung Galaxy S4 will be hot-selling in the coming weeks. Many re-sellers have started prowling the internet for best-margin accessories for the new model. But where to buy the best Samsung Galaxy S4 Cases and other related accessories at low prices? Chinese shopping sites are definitely a good choice. Read details below if you are interested in this topic.
While people have to pay dozens of dollars for a protective case for high-end smartphones like Samsung Galaxy 4 in the local stores in the US or the UK, they can easily get a lovely and quality case from a reliable Chinese site with only a few dollars for their beloved mobile device through an online transaction. The much lower prices do not mean the products are exterior in terms of designs or quality. Many of them look really amazing. You won't get any difficulty in finding a creative or unique case that fits both your phone and your budget as long as you find a right site to trade with.
You can take a look at the cell phone cases or other accessories for sale on the most popular Chinese sites such as Dinodirect.com (read review), Focalprice.com (read review), Tmart.com (read review), Priceangels.com (read review)or Lightake.com (read review). Generally, if a Chinese site is offering great protective cases at competitive prices for the current best cell phone handset like Samsung Galaxy SIII, they are very likely to sell equally good cases for Samsung Galaxy 4. Actually, some of them have already listed Samsung Galaxy S4 cases into their stores to seize the attractive business opportunity. For instance, Ahappydeal.com (read review) have posted a banner promoting their Samsung Galaxy S4 accessories:



The following elegant TPU full body case for Samsung Galaxy S3 I9300 is available at $6.99 plus free shipping at Miniinthebox.com (read review), the electronic gadget channel of the famous Chinese online store Lightinthebox.com  (read review).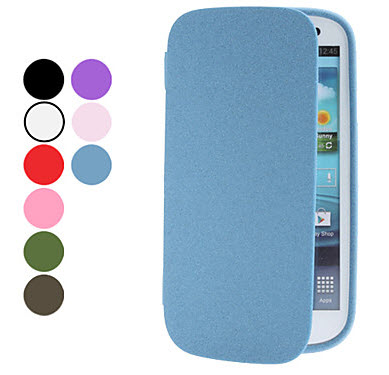 This solid colored Samsung Galaxy S3 case has 9 colors to choose from. The simple look makes it a classic choice for S3 owners. Being one of the best-selling protective cases for Samsung Galaxy S3 at the site, it has received a 5-out-of-5-stars rating posted by over 70 customers. Besides this one, the site carries a wide range of other cases suitable for Samsung Galaxy S3 that come in various styles or designs, patterns, materials, colors or prices. Here are some of the top rated ones: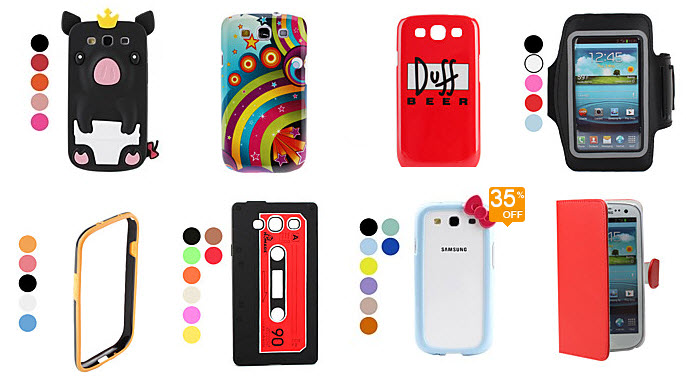 Top rated Samsung Galaxy S3 protective cases at Miniinthebox.com
Surprisingly, I happen to notice that they have already launched a collection of cases for Samsung Galaxy S4 even though the model hasn't been officially released yet. Likewise, you have a lot of options from looks, materials to prices. The collection includes soft cases, hard cases, PU leather cases, genuine leather cases, plastic cases, textile cases, bumper frame cases, slot-and-strap cases, cases with stand, cases with card slot, armband cases, full body cases, back cover cases and flip cover cases for Samsung Galaxy S4 I9500. The prices range from $2.129 to $11.49 – all for free shipping.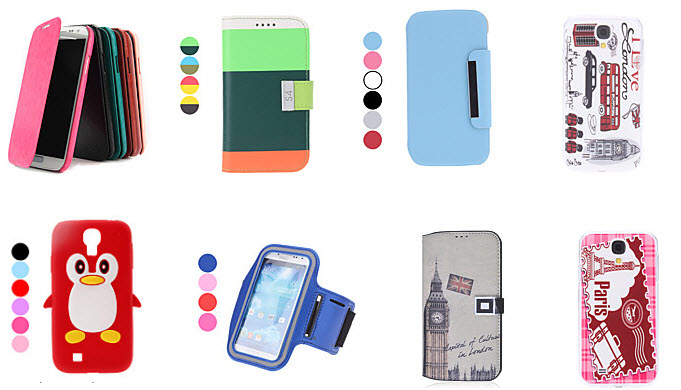 Best Samsung Galaxy S4 protective cases at Miniinthebox.com
You can also find cases for other Samsung hot models including Samsung Galaxy Note, Samsung Galaxy Note 2 and Samsung Galaxy S2 I9100. Other Samsung Galaxy accessories like chargers, adapters, screen protectors, stands, gadgets, external batteries or stylus and touch gloves are available there too.
Apart from Miniinthebox.com, there are several other trusted China-bases sites to shop for cheap Samsung Galaxy S4 cases and other accessories. Here are the top names:
Almost every Chinese site that offers Samsung Galaxy accessories provides free shipping service even if the order value is very small. You may find similar or the same style Samsung Galaxy SIV cases at different sites listed above. You know, they may cooperate with the same manufacturers of cell phone cases or accessories. I encourage you to use the sites to compare prices in order to get the best deals. At the same time, search our site for the latest coupon codes offered by the shopping sites before you place an order. You may find a discount code that applies to the product you want to order so that you can save more.

Sale on Samsung Galaxy S4 Cases at Eforchina.com (read review)
Leave a Reply