On this site we have introduced several well-known China electronic gadget online stores, including DinoDirect, FocalPrice, MiniInTheBox, ChinaVasion, Tmart, DealExtreme, Lightake and more. PriceAngels.com is yet another legitimate company that sells cool gadgets to foreign countries via internet. It is, like most of its biggest competitors, based in Shenzhen, the manufacturing hub of consumer electronics, computers & accessories, and communications products. This research-based PriceAngels review is simply intended to help you learn more about the company.

In the arena of China international e-commerce, PriceAngels is recognized as a fast-growing online shopping website of electronic gadgets that keeps a low-key stand. I used the biggest Chinese search engine Baidu to search for related information about PriceAngels, but got few useful results. It seems that the company is not mentioned much among people who work in the e-commerce industry. However, with rapid growth in daily turnovers and annual revenues, it is definitely not to be neglected for those who share the global electronic gadget market, such as DinoDirect.com and FocalPrice.com.
Comparatively, the categories PriceAngels covers are somewhat concentrative. Maybe it is because the site does not want to expand product line too quickly, it focus on a few areas only. It is absolutely all about cool electronic gadgets, except for some fashion accessories like glasses, jewelry, watches, handbags and wallets. The main categories at PriceAngels are: computers & networking, electronics, hobbies & toys, car accessories, home & outdoor, cell phones, flashlights & lasers, Apple accessories, cameras & camcorders, flash memory and video game accessories. Undoubtedly, the gadgets are made by factories located in Shenzhen.
PriceAngels offers free shipping by Hong Kong Post (for smaller orders) and by EMS Express (for bigger orders) worldwide, just as other popular online electronic stores do. Although various payment options are available at PriceAngels, you are encouraged to use PayPal. For international shopping, I personally believe that PayPal is the safest payment method.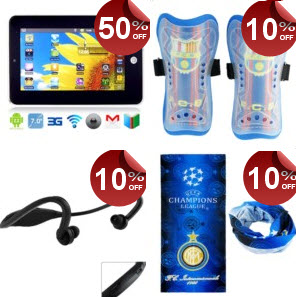 Promotions are frequently launched and if you order more than 3 pieces for a single product, you can get a bulk purchase discount. The more you buy, the deeper the discount is. Price Match is available on each product's page so if you find a lower price elsewhere, you can report it to PriceAngels in order to enjoy the same low price for the product you want. For other discount offers, check out the PriceAngels Coupon Code page.
If the above information can't clearly answer all your questions about PriceAngels.com, you can search the internet for more purchase-based reviews or take a good look at PriceAngels. Before you place an order on a certain product there, make sure to ask all related details you are interested in with their service representatives.
One Response to "PriceAngels Review: All About Cool Gadgets"
Leave a Reply