Being suitable for both casual wear and office wear, ruffled blouses are almost indispensible for the wardrobes of ladies who are in to fashion. For this reason, ruffled blouses for women are widely sought-after. Recently I found a few deals on ruffled blouses from the special offers launched by some online China stores. Below I would like to share three styles in trendy blouses on sale at different online shopping websites.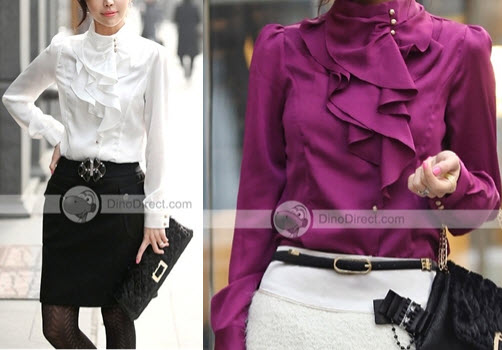 I love the white front ruffled blouse, although the style is also available in purple and khaki on DinoDirect.com. The long-sleeve blouse is made of high quality imitated silk (Attention! Not real silk!). It looks fabulous when paired with a fashionable skirt or a pair of women's trousers. For the time being, the promotional price for this blouse is $17.69 plus free shipping. If you want to purchase the item in bulk, you can click on the "Wholesale Inquiry" button on the product page to get a lower wholesale price.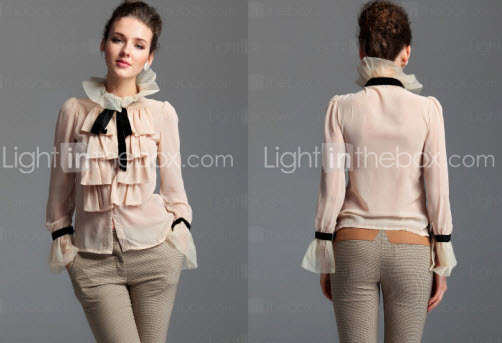 With ruffles embellishing the sleeves, the collar and the front, the almond blouse (black is also available) makes the wearer looks elegant and stylish. The loose fit is definitely a great attraction. If you look at the big images of this blouse, you will instantly "feel the quality" with your eyes – quality is always the label of fashion products offered by Lightinthebox.com. Priced at $29.99, the blouse deserves a good look.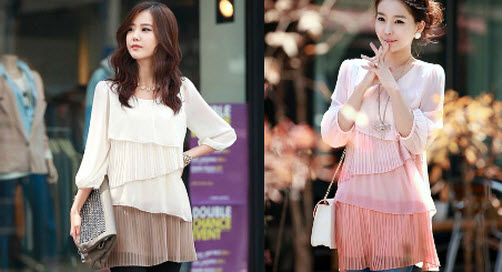 This sweet ruffled blouse is offered by a verified seller registered with AliExpress.com. White or pink, it looks particularly amazing with skinny jeans. Chiffon is the main material used in the blouse. The three-quarter sleeves add to the fashionable touch of the creative design. If you are looking for something special for your spring wardrobe, it is the thing. As AliExpress is a wholesale transaction platform, the blouse requires a minimum order quantity of a lot (2 pieces). It is offered at $37.39 per lot. For orders of more than 3 lots, you can ask the seller for a better wholesale price. For individuals, I don't think it is a good idea to buy one style in two different colors. That's why I believe this deal should be more attractive to re-sellers or merchants of fashion products.
Image courtesy of DinoDirect.com, Lightinthebox.com and AliExpress.com
Leave a Reply