Advertise With Us
Thank you for showing an interest in advertising with Danviews.com (formerly named as ChinaWholeSaleReviews.com).
Our prices for our advertising programs are as follows (also see the image), and are subject to change at any time:
468×60 Big Rectangular Banner (B1) –

$150 USD per month

(unavailable)
234×60 Small Rectangular Banner (B2) –

$50 USD per month

200×200 Small Square Banner (B3) –

$80 USD per month

234×60 Small Rectangular Banner (B4) –

$120 USD per month
Note: All the above banners will appear site wide (Top Wholesale Deals pages excluded).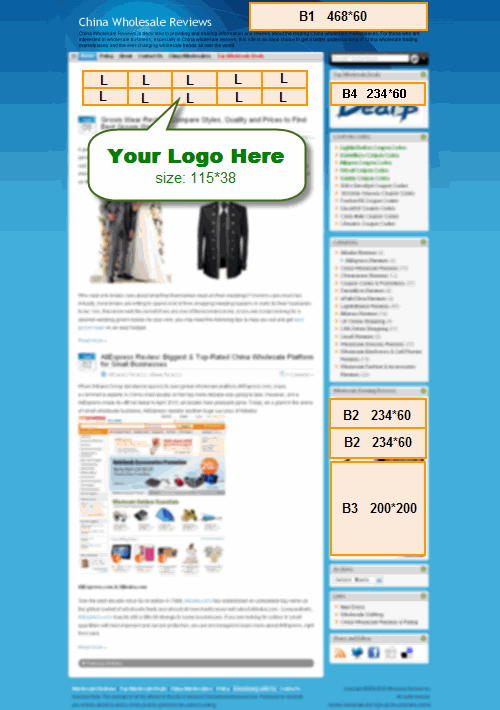 Why choose us?
Danviews.com has a professional team working to deliver quality and authoritative information about the whole China wholesale market. We cater to an average of 500 unique visitors per day and the number is still growing very fast. About 98% of our visitors is exactly the target group our website focuses on, that is, global buyers who are interested in buying direct from China.
Our website is updated regularly and frequently with professional reviews on the most renowned China wholesalers or suppliers (including the products and services they offer), and our editors' scoops into the trade secrets and business tips about buying from China. Any site or company that has a hand in any of the B2B or B2C industries, especially the cross-border trade industry will benefit by advertising on Danviews.com.
What you'lll get:
You ad will receive a good number of impressions and drive exposure to your company or products.
Your ad will attract some quality traffic to your site, which matches closely with your business scope and may enlarge your client base.
Your ad will help drive sales for your company.
We accept PayPal, bank transfer, Western Union or Alipay for payment. No refunds available. The prices listed above DO NOT include the design of your ad so please prepare the banner yourself before we place the ad for you. Animated GIFs are not acceptable.
Don't miss this grand opportunity to boost your potential client base!
To get started, just simply drop us a line by e-mail or IM.  Contact us now >>.
Danviews.com Support Team