According to Urban.com, the famous Chinese e-commerce online community, Aliexpress.com has been openly recruiting sellers of top international brands since early January, 2014. This activity will last till March 31. During this period, as long as you can provide valid data and pass through the qualification verification of Aliexpress.com, you will be allowed to sell branded products at the website. So far, only corporation-type sellers have been given the chance to apply for the qualification and individual sellers are excluded. Note that this time only 300 designated brands are invited to join the wholesale trading platform.
This is a sign indicating that Aliexpress.com is getting more and more ambitious in the international trading arena. In the Chinese foreign trade industry, people regard it as Aliexpress' attempt to become an international Tmall.com, the biggest brand shopping website on the Chinese domestic market, also belonging to Alibaba Group. Lots of well-known brands with good international reputation have been invited to sell products to global buyers at Aliexpress.com, e.g. Camel, Big Foot, Pomp, Jewel Ora, Neo, etc. Even the famous online international fashion retail brand Milanoo.com has opened a franchise store there.
At Aliexpress.com, you can find an exclusive channel for the brands – you can access it by clicking on the Brand Showcase button at the bottom area of their homepage. There you can find products from verified brands covering various categories: Phones & Accessories, Computers & Accessories, Automotive, Jewelry & Watches, Wardrobe, Home & Garden and Kids & Toys. Compared to the majority of product listings at the site, products for sale in this channel are much better guaranteed in terms of authenticity, quality and related pre-sales and after-sales service.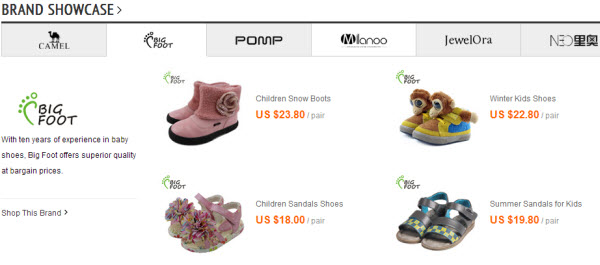 Every brand included in that channel has to be strictly verified by Aliexpress.com in terms of qualifications before it opens the branded store there. All brands have signed an agreement with the website to guarantee that every product they are offering there is 100% genuine. If Aliexpress.com receives a complaint against any brand claiming that a product is counterfeit and proves it is true with valid evidence, the store will be significantly punished based on the agreement and even be removed from the website forever.