If you have read my review of Milanoo wedding dresses or review of Lightinthebox wedding dresses, you might also be interested in this review of wedding gowns available on another popular sites based in China. Also, if you want to buy wedding dresses from Aliexpress.com, this post is definitely worth reading.
By "Aliexpress wedding dresses", I mean the bridal gowns offered by various sellers who have registered with Aliexpress and sell their products there. Note that Aliexpress.com is a trading platform, not a super big supplier like Lightinthebox.com or Milanoo.com. Technically, when you buy something at Aliexpress.com, you trade directly with some specific seller instead of the site while the whole transaction process is under the supervision as well as protection (escrow service) provided by Aliexpress staff.
Although all sellers have been verified in terms of qualifications when they apply for the membership, they may vary significantly in all aspects. In particular, the prices they offer can be rather different between similar or even the same goods. And most importantly, while most suppliers there are trustworthy and honest, some may be scammers who intend to make use of their Aliexpress account to rip people off. Anyway, you can avoid such risks by sticking to a few useful tips. Read the full review of Aliexpress.com >>
Manufacturers & Quality Control
As I mentioned above, the wedding dresses at Aliexpress.com are listed and offered by different suppliers, who can also be the manufacturers. Overall, the dresses are mostly made by small or medium-sized factories or family-own workshops. The majority comes from the biggest manufacturing hub of wedding apparel in China: Suzhou and Guangzhou. So I would personally suggest you choose sellers from either of the cities. Also, you can chat with the sellers to confirm whether they are manufacturers or simply middle-men. Buying direct from manufacturers can usually save you even more money. Remember to ask them to provide you with some evidence which can prove that they themselves make the dresses.
As a third party, Aliexpess has no way to control the quality of any product listed on the site. This is probably one of the biggest disadvantages of buying wedding dresses there. The quality standards all depend on whether the sellers are honest with their product descriptions or not. To confirm with the quality condition of the dresses you are interested in, you have no choice but to do more research on customer reviews in addition to consulting their sales representatives who may lie to you though.
Prices & Free Shipping
The prices for the wedding dresses there range from $19.50 per piece to $19,053 per piece. This means you have a huge range of pricing options to choose from. Whatever budget you are on, you have a variety of styles to consider. That is why Aliexpress is rated one of the biggest online destinations to shop for wedding gowns. Whether you want a super cheap wedding dress or a luxury wedding dress, the site has amazing varieties of the matching products.
Free shipping is only available on select items. Most of such offers are usually for promotional purposes and will last for a limited time only. You can tick on the "free shipping" filter on the top of the listing page and you will the shown with all dresses for sale with free shipping.
Styles & Customization Service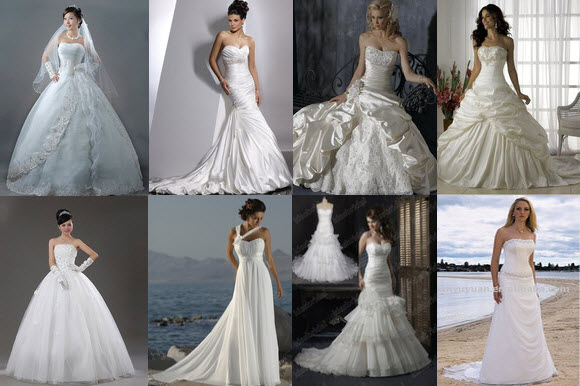 The range of styles at the site is yet a great attraction. You can hardly find another Chinese online shop which carries the same wide range of styles in wedding dresses like Aliexpress does. Their category of wedding dresses has more than 460,000 items! Whatever styling preferences you have, you will easily find the right one there.
Generally, China is rather poor in designs of wedding dresses. As a result, many small Chinese manufacturers try to grab the market share by creating "designer inspired wedding dresses", which imitate partly the styles designed by world-famous designers. Anyway, if you are looking for Asian styled or Chinese styled wedding dresses, you are more likely to get the original designs.
Likewise, all sellers on the site will tailor your dresses based on your specific measurements. However, do remember to confirm with their sizing standards before you place an order. The professional sellers know well about the European or American sizing standards while some may use Chinese sizing standards to make the dresses. It is never good to receive a wrong-sized dress for our bid day!
Making Payment
Currently the payment methods accepted by Aliexpress.com include Moneybookers, Visa, MasterCard and bank transfer. You can also pay with select debit cards including Maestro, Solo, Carte Bleue, PostePay, CartaSi, 4B and Euro6000.
It is important to note that the payment you made will go to the Aliexpress account first. Only after you have confirmed the receipt of the goods, will the site release the payment to the seller. In the case that a dispute is incurred, you should open or submit a dispute before the deadline so that the site will hold the money until the problem is resolved. You will get the refund if it is the seller's fault.
Major Complaints
Customer complaints are always a bid headache for transaction platforms like eBay or Aliexpress. It is not easy to regulate so many suppliers or control their quality standards or specific business activities. When you search for "Aliexpress scams", "Aliexpress complaints" or "Aliexpress negative reviews", you will get lots of results. However, after you read carefully the full reviews, you will notice that most bad reviews are against certain sellers, not the site. For instance, "shipping is delayed", "quality is poor", "items received are not as described", "items do not work normally", to name just a few. You are encouraged to pay particular attention to such information as it may help you blacklist those dishonest suppliers and avoid being scammed.
On the other hand, I did discover that some unhappy customers were totally angry at the ruling results of the disputes. They believed the site was on the sellers' side and did not do justice to them. Although I had read the details these customers posted, I still found it hard to identify the actual facts. Anyway, the quantity of bad reviews against the service provided by Aliexpress is less than 5% of the total complaints based on my statistics, which means you can be confident that the site is a legitimate company not a scammer though it is yet not perfect.
Alternatives to Aliexpress.com
If you think buying wedding dresses from transaction sites like Aliexpress.com is too risky or involves too many hassles, you can choose the reliable big suppliers such as Lightinthebox.com, Milanoo.com or Dinodirect.com. They have better control over quality or other aspects related on the dress you order. When problems occur, you can contact them directly for solutions and they tend to solve the problems more efficiently. And the key point is, they are more professional and the quality of what they offer is thus more dependable.
4 Responses to "Review of Aliexpress Wedding Dresses"
Leave a Reply