When Alibaba Group decided to launch its new global wholesale platform AliExpress.com, many e-commerce experts in China shed doubts on the big move Alibaba was going to take. However, since AliExpress made its official debut in April 2010, all doubts have gradually gone. Today, as a giant in the arena of small wholesale business, AliExpress speaks another huge success of Alibaba.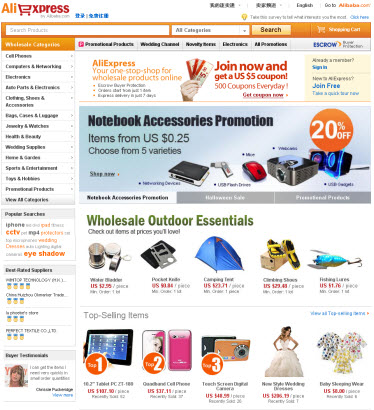 AliExpress.com & Alibaba.com
Over the past decade since its inception in 1999, Alibaba.com has established an unbeatably big name on the global market of wholesale trade and almost all merchants know well about Alibaba.com. Comparatively, AliExpress.com may be still a little bit strange to some businesses. If you are looking for orders in small quantities with fast shipment and secure protection, you are encouraged to learn more about AliExpress, right from here.
As the brand name indicates, AliExpress is composed of "Ali + Express". Yes, from the very beginning, AliExpress is intended to be Alibaba's express channel for wholesale transactions. We know, Alibaba.com charges membership fees on suppliers and mainly provides information service between sellers and buyers. Different from Alibaba.com, AliExpress.com does not charge any fees on registered members (either suppliers or buyers) and inspects the whole transaction process between the two transaction parties. It's a wholesale platform targeting small and medium-sized suppliers and buyers. There minimum orders as low as 1 item are accepted and express delivery, in some cases, fast and free shipping is offered. In addition, a vast array of item categories can be found on AliExpress—it truly is a one-stop-shop for small wholesale orders.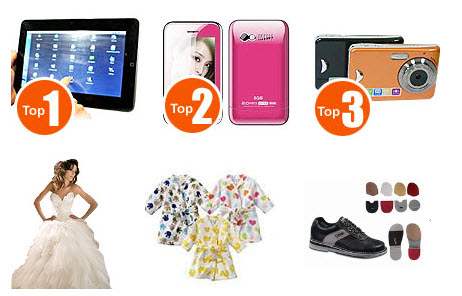 AliExpress Escrow
AliExpress uses the Escrow service to provide complete protection on each transaction. Under the protection, buyers don't need to worry that what they order will never arrive or what they purchase is not as described. Let's make it simple enough: AliExpress only releases payment to the seller when the buyer is happy with the order received. Learn more about AliExpress Escrow >>
AliExpress Credibility
On the internet, we may occasionally find a few unhappy customers complaining about "AliExpress scam". Just think about what a successful image Alibaba has built in the world, you would instantly realize that a reputed international company like Alibaba can't in any possible rip its customers off. Some buyers may have some unpleasant experience with some individual sellers and fail to resort to AliExpress for a solution. That's how most "AliExpress scam" complaints come out.
Here we would remind you that though AliExpress conducts a very strict policy to verify each supplier before authorizing their membership qualifications, not all suppliers are in practice qualified enough and some of them may be even dishonest. To avoid being scammed by such suppliers, you need to check the credibility of the supplier who offers items that interest you, in terms of feedback scores and ratings, supplier level and other details listed on the product detail page. If by any chance you are unhappy with the transaction, do remember to ask AliExpress for help in time.
AliExpress Shipping
On each product detail page, you can find all the shipping carriers available for the item under the "Shipping & Packing" tab. Each shipping company is listed there with detailed information including shipping cost, discount and delivery time. AliExpress provides a variety of shipping companies for buyers to choose from based on their preferences. For express delivery, the China wholesale platform offers EMS (China Post), UPS, DHL, FedEx, TNT, SF and more; for postal service, Air Mail (China Post) is available. However, not all these shipping methods are available on all items. It may also depend on whether the seller uses them to ship out orders. So just check the "Shipping & Packing" section as mentioned earlier.
AliExpress Payment
Currently, AliExpress accepts PayPal, Moneybookers, Visa, MasterCard and bank transfer. Some select debit cards are also accepted, including Maestro, Solo, Carte Bleue, PostePay, CartaSi, 4B and Euro6000. Meanwhile, AliExpress is adding more payment options. For details, click here >>
AliExpress Coupons
Discounts and special offers are frequently launched on AliExpress.com, but coupons are rarely issued to all buyers, though from time to time AliExpress may send some coupons to its select customers. On the homepage of AliExpress.com, you can see a "Promotional Products" page and an "All Promotions" page, where items on sale are all showcased there. To get the latest AliExpress coupons, you can see our updates on our AliExpress & Coupons page.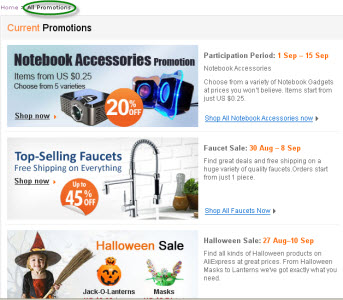 As a conclusion, I should say, I myself have full confidence in AliExpress and believe it is the best China wholesale platform for small and medium-size transactions. By using AliExpress, buyers can enjoy secure and pleasant shopping with minimum costs and get quality items. Isn't it exactly what most buyers are seeking for?
123 Responses to "AliExpress Review: You Must Read This before Shopping at AliExpress"
Leave a Reply