Two decades ago, global trade e-commerce was still a desert in the macro milieu of internet technology development, until in 1999, a China-based wholesale trade platform called Alibaba.com emerged and started making global suppliers and buyers do business in a much more easy and efficient way. Just as what its logo motto illuminates, "Global trade starts here".

Over the past 21 years' development, Alibaba has been overwhelmingly dominating the world in cross-border trade and keeps enlarging its business scope as well as customer base. Even today, with so many rising competitors around the world, Alibaba is still the unbeatable and absolutely No. 1 leader in the arena of global wholesale trade, in terms of credibility, item directory range, quantity of registered users, trade volume, etc.
Key Facts about Alibaba.com:
Based on the latest report, now Alibaba boasts a total of 53 million registered members covering over 240 countries and regions.
Alibaba has offices in more than 60 cities across Greater China, Europe, Korea, Japan, the United States and India.
Alibaba has more than 5200 categories of items for buyers to choose from and is attracting suppliers to add more and more categories.
Alibaba.com is a global trade directory website where you can either sell items or find suppliers to buy items by registering with Alibaba.
As a B2B website focusing on wholesale business, Alibaba accepts minimum orders as low as 1 piece.
Alibaba.com has evolved into three online wholesale trade platforms: www.1688.com (for Chinese domestic wholesale trade only), www.alibaba.co.jp (for trade to and from Japan) and www.aliexpress.com (for global buyers seeking fast shipment and small quantities of goods). In particular, AliExpress is its newest wholesale platform.
Alibaba offers some free value-added business tools and services to facilitate your trade with your counterparts, including TradeManager, Ask It!, Price Watch and Trade Alert. To use these tools or series, you need to sign up with Alibaba for free first.
On Alibaba.com, you can find many online tutorials to help you learn about all the basics and details you need to know before doing business there.
The Alibaba.com forum is a great community to get helpful advice from suppliers or buyers who have business experience on Alibaba.
OEM products and dropshipping service are extensively offered by suppliers on Alibaba.
Why Alibaba?
The best reason for using Alibaba, however, is that buyers can effortlessly find manufacturers or suppliers in a foreign country. Given the vast array of suppliers, you can compare carefully the product quality level, pricing and other details to make a best choice. By negotiating with various suppliers, you are always able to get best deals on what you are looking for. Of course, the prices of different goods depend on the quantity you decide to purchase, as well as the bottom prices the suppliers are willing to offer. Generally, the bigger the order you place, the lower the price you'll get. Also, in most cases, trading with suppliers who are also the manufacturers of the goods will save you more cost—factory prices are no doubt the lowest, which means you will get even higher profit margins.
With so many years' improvement and upgrading, the site of Alibaba.com is user-friendly and easy to navigate. Just by searching for an item you are looking for there, a list of potential suppliers will be neatly displayed there. To make inquiries, you can choose to chat with the supplier of interest by the TradeManager (an IM tool), or contact the supplier by message. It's all that simple to start shopping from a foreign country, even if you're a newbie without any export or import experience before.
Why Sign Up with Alibaba?
By setting up a free trade account with Alibaba, you will be able to enjoy the full services Alibaba offers to its registered members. In particular, the Trade Alert can make you get latest business opportunities in a super easy fashion. The whole signup process will take you less than 1 minute!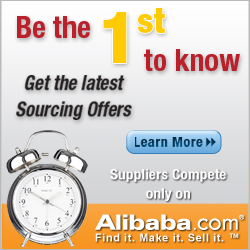 2 Responses to "Alibaba Review: Key Facts You Must Know about Alibaba before You Trade There"
Leave a Reply