About Milanoo.com

In the Chinese foreign trade arena, Milanoo.com is extensively recognized as one of the best online shopping websites for wedding dresses and other fashion products. This company was created in 2008 and has been growing very fast. This site is now very famous not only among their Chinese competitors but also among their customers around the world.
Although they claim their head offices are located in Hong Kong, I seriously doubt it as I fail to find any evidence that is able to prove this "fact". Based on my findings, they did register their company in Hong Kong but did not set up any office there. Instead, they position the operating offices, the real headquarters, in Chengdu, the capital of Sichuan Province in the mainland China. Also, they have an overseas branch office located in the UK for administrative purposes only.
The most famous product lines of Milanoo.com include: wedding dresses, special occasion dresses and cosplay costumes. During their start-up period, the store offers free shipping on any order to any destination across the world. Since last year, this sitewide-free-shipping service was changed. Now if you want to be honored with free shipping on orders with the company, your order value must reach a certain threshold, usually $50, sometimes higher or lower.
For more detailed information about the company, please read the review here: http://www.danviews.com/china-wholesale-shopping-website-milanoo-for-fashion-stuff/
Comprehensive Review of Milanoo Wedding Dresses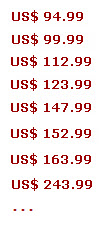 As one of the bestsellers at Milanoo.com, the wedding dresses for sale there are best known for their unbeatable prices as well as great styles. I notice that recently the store has been adding more and more high-end wedding dresses priced at above $150. In the past, the site focused more on cheap wedding dresses at around $100 only and wedding gowns under $99 could be easily found there. Overall, prices are still their greatest appeal to customers. I've compared a few styles and found that their prices are 10%-20% lower than market prices. If you stay up-to-date with their latest deals, you may get an even better saving.
At the same time, the site offers 5%-15% off the retail price if you order more than one piece in a single order. For merchants who run a wedding gown store to make money, such attractive wholesale prices definitely ensure your high margins.
Plus, most wedding dresses there are offered with free shipping. Note that they ship your order for free by a standing shipping method which may take 7-9 days long for the order to arrive at your door from it is dispatched. If you want to get your order more quickly, you are encouraged to choose an expedited shipping method by paying a small shipping fee.
Styles & Customization Service
Currently the site carries more than 772 styles in wedding dresses, each of which has a number of colors to choose from. Most dresses there are neatly sorted by styling preference: A-line, ball gown, halter, trumpet or mermaid, sheath or column, empire waist, off-the-shoulder, sweetheart, strapless and v-neck. You can also find exclusive categories of mini wedding dresses, plus size wedding dresses, reception dresses, maternity wedding dresses, celebrity wedding dresses, luxury wedding dresses and wedding dresses under $100. See all styles in wedding dresses at Milanoo >>
Like all other famous wedding dress suppliers, Milanoo offers customization service on the majority of wedding dresses for sale there. When you place an order, you should provide your specific measurements so that they can custom tailor your dress to perfect fit your sizes. Also, you may require them to make some minor changes to the style you choose. The whole processing time required for a wedding dress is about 28 days – if you want to order from them, you may have to order at least one month in advance to ensure that your dress arrives in time for your big day. I would also suggest you confirm again the time for tailoring and shipping with their sales representatives.
Other Wedding Supplies Available
In addition to the wide range of wedding gowns for the brides, Milanoo also offers a huge selection of other wedding supplies, including groom wear, bridesmaid dresses, mother-of-the-bride dresses, flower girl dresses, wedding shoes, wedding accessories, wedding handbags and more.

View all wedding supplies at Milanoo >>
Factory & Quality Control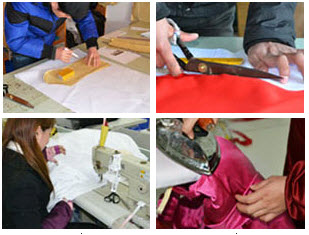 At the beginning, Milanoo sold wedding dresses by cooperating with a number of manufacturers in different sizes. This often results in a problem that it is hard to control the quality. As a result, the quality standards of their wedding dresses vary from each other and some bad reviews against some poorly made wedding dresses ruin people's confidence and trust in the high quality dresses. As the company is getting mature, they finally select on big and reputable factory based in Guangdong Province to get their wedding dresses designed and tailored. They do not simply order from the manufacturer. Instead, they work very closely with the factory and take part in the management to ensure good quality and timely dispatch.
The fabrics they use to make the bridal gowns are guaranteed high quality. When I said their prices are unbeatable, I meant for the pricing. It is not tricky to find even cheaper wedding dresses from small online wedding dress stores but you may get really disappointed by the awful quality.
I know every Chinese online international shop has complaints. To reveal the facts about Milanoo complaints or scams, I searched and read a plethora of real customer reviews of Milanoo at various web forums or review websites. The major complaints against the Milanoo wedding dresses are as follows:
Sizes do not fit.
Shipping takes too long.
Items received slightly different in some minor details, such as a bow embellishment for the waist.
Exchange and return policies are not fair.
Among all, sizing problems are the most common source of negative reviews of Milanoo.com. According to my research, it is mostly the customers' fault as they fail to follow the sizing chart provided by the store when placing an order. Some customers use their own sizing standards to measure their body, which may be not identical with the one listed on the product page. Based on the policies of Milanoo, if they do send you a wrong-size dress because of their fault, they will take full responsibility and refund the money to you. My advice: do remember to read carefully the sizing chart of the size or confirm with the sales people before you measure and provide your sizes for the dress.
It is always good to do comparison between similar sites in order to make a better shopping decision. There are several amazing sites similar to Milanoo.com in terms of the product line of wedding dresses. In particular, Lightinthebox.com, Aliexpress.com and Dinodirect.com are the best alternatives to finding great made-in-China wedding dresses at reasonable prices. I will post reviews of wedding dresses offered by these sites and more other popular wedding dress online shops in the future. Check back here regularly for the updates if you are interested in.
Images courtesy of Milanoo.com
Leave a Reply