Just now we received an email from a famous UK-based store review website, informing us that a new review about our site www.danviews.com has been posted by a user. This is not the first reminder of this kind to us. Out of curiosity I clicked on the link included in the email to see how our readers rate us. Not surprisingly, again, I found that it was a misunderstanding as obviously the content did not talk about our site. Instead, it was a review of Lightinthebox.com:
"I have purchased several pairs of dance shoes from LightInTheBox, and have been very satisfied with my purchases. The shoes are well made and are reasonably priced. The customer service is also outstanding. I would highly recommend LightInTheBox."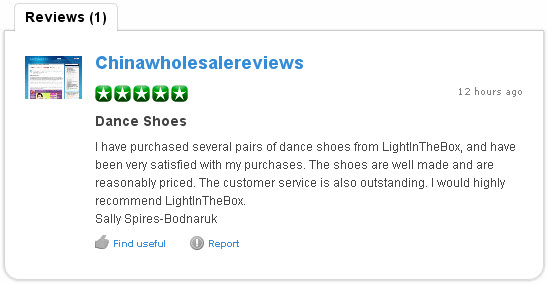 I took a closer look at the title of the thread and confirmed that it was intended to rate Chinawholesalereviews. And the thumbnail of our site shown on the left further proved it.
Interesting enough, it seems quite a number of our readers have mistaken us for a specific online store like Lightinthebox.com, Milanoo.com or Aliexpress.com. I often receive emails or find comments here asking us about the product details offered by some store or commenting on the products or services they've got from an online shopping website, which has been reviewed by us on this site.
Here I would like to kindly remind our readers that we are not Light In The Box or any other China-based online shops. We are a third-party review website dedicated to providing the most valuable information about the credibility, products and services of all China online shopping websites targeting global buyers. We built this site with the aim to help interested parties learn more about the China international wholesale and retail market and get a safer as well as a more pleasant shopping experience with reliable Chinese suppliers.
The Chinese online shops or marketplaces we have reviewed on this website are as follows (in a random order):
Lightinthebox.com: http://www.danviews.com/lightinthebox-reviews-not-simply-a-transaction-platform/
Aliexpress.com: http://www.danviews.com/aliexpress-review/
Alibaba.com: http://www.danviews.com/alibaba-review-key-facts-you-must-know-about-alibaba/
Milanoo.com: http://www.danviews.com/milanoo-review-a-china-wholesale-shopping-website-for-fashion-stuff/
Dinodirect.com: http://www.danviews.com/dinodirect-review-a-china-wholesaler-or-a-china-wholesale-transaction-platform/
Focalprice.com: http://www.danviews.com/focalprice-review-from-ebay-big-seller-to-electronic-gadget-shopping-site/
Chinavasion.com: http://www.danviews.com/china-wholesale-electronics-online-store-chinavasion/
Tmart.com: http://www.danviews.com/tmart-review/
Priceangels.com: http://www.danviews.com/priceangels-review-all-about-cool-gadgets/
Uxcell.com: http://www.danviews.com/uxcell-review-factory-direct-china-shopping-store-for-consumer-electronics/
Lightake.com: http://www.danviews.com/lightake-review/
DHgate.com: http://www.danviews.com/dhgate-review-china-wholesale-site-for-small-merchants/
Soobest.com: http://www.danviews.com/soobest-reviews/
Banggood.com: http://www.danviews.com/banggood-review-a-young-store-backed-by-a-veteran-team/
Davismicro.com: http://www.danviews.com/china-wholesale-shopping-store-davismicro-for-cell-phones-and-electronics/
Ahappydeal.com: http://www.danviews.com/davismicro-brandsdragon-ahappydeal/
Dealextreme.com: http://www.danviews.com/dealextreme-review-making-success-with-a-low-key-profile/
Yotang.com: http://www.danviews.com/yotang-review-another-china-wholesale-trade-platform-for-cheap-products/
Note: more Chinese foreign trade websites are being constantly added to our review list.
If you are interested in the products for sale at any of the sites, you are encouraged to contact their sales reps to get the details. Likewise, if you want to get any after-sale help for the problems you encounter, contact their service people for solutions. You are more than welcomed to leave your reviews, ratings or comments about the online stores here. Of course, if you fail to reach the stores by any contact method available, you can email us with details and we will try our best to help.
For more detailed information about our site, please read the About Us page.
Leave a Reply