Days ago, I got an email from a reader asking me about the credibility of a China online store. I have never heard of the site before. By the first glance at the web address the reader provided, I did not feel good as it looks not at all professional, something like "ying2008" (a person's name plus the year number). Anyway, to help the reader better identify whether it is a scammer or not, I paid a visit to the online shop and then shared what I've found about the store with the reader by email. In case more readers have similar concerns, I decide to introduce some must-read tips that may help you find reliable China online retail or wholesale stores.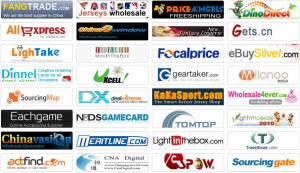 First of all, I think it necessary to define what kind of China online shops is "reliable". When you trade with a Chinese online shopping website, don't expect that it is completely complaint-free. I have emphasized this point again and again in my previous posts on this site. Even the most reputable international stores based in China have complaints or negative reviews, e.g. AliExpress.com, DinoDirect.com (see DinoDirect Review), Lightinthebox.com, etc. Generally, Chinese global web stores are more likely to be rated as unsatisfactory in terms of item quality and customer service standards, especially for electronic products. But it doesn't mean that all made-in-China products are craps, nor that all customer service of China stores sucks. Customers' expectations are usually a big reason for bad reviews. Based on my knowledge, what really matters is that the store is a legitimate company doing serious and honest business. Only on this condition should you further explore the other details of the shop before you make a shopping decision there.
Third-party reviews or customer reviews are helpful for identifying the legitimacy of a store. On ChinaWholesaleReviews.com, we have posted many research-based reviews of a number of the most popular China wholesale (and/or retail) stores that specialize in various product lines. You can use the search box to find if the store you are interested in has been reviewed here. If you find no results, it does not necessary mean that it is unlawful – we are still working hard to expose the basic facts of more stores that are legitimate.
You are encouraged to also search the web for real reviews posted by old customers of the store. Again, if you discover some negative reviews, don't freak out. Be patient and go ahead to prowl for more related reviews. Reading reviews especially bad reviews can help you learn more details about certain products or services provided by the store. While presenting the imperfections of the store, unhappy voices prove that the store does exist and does sell real products and ship them to customers. As we know, scammers generally disappear overnight after they successfully get the money. On the contrary, if you find rare or no reviews (bad or good) of the shop, chances are whether the store is too small to have any customer yet or it is simply a scammer.
In addition to reviews, below I have more tips for evaluating the reliability of a China online store:
Take a quick tour to the shopping website to see if it is professional in language, layout and product listings;
Find the contact information and try the phone number to confirm whether it works or not;
See which payment options are available and always choose the safer one. Paypal is the best choice while Western Union or bank transfer is highly risky. If the store only accepts Western Union or bank transfer, beware.
If you find a store on a transaction platform like AliExpress.com, make sure your payment is under protection provided by the platform.
Always place a small order first to test the water before you invest big money.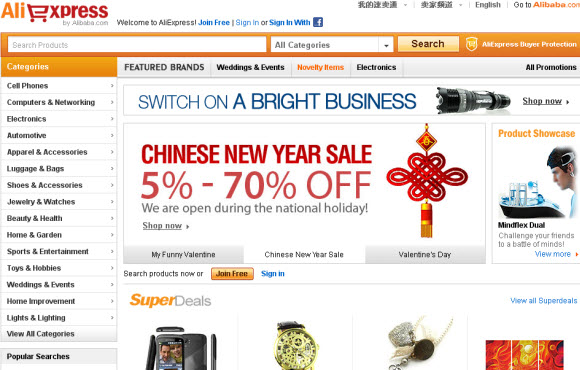 Front Page of AliExpress.com
4 Responses to "Must-Read Tips for Finding Reliable China Online Stores"
Leave a Reply