When you search the internet for customer reviews of eForChina.com, you may get few helpful results – there are lots of video product reviews posted by eForChina though. As a professional review website, we never use the site to buy anything. However, as we review other China-based international shopping websites, we know well how to dig out the most useful information about the site. The following eForChina review is written based on a thorough research on the company. Hope this helps those who are interested in doing business with the site.
An Overview of eForChina
I notice that the office of the website is located in Huaqiangbei, the famous electronic shopping centre in Shenzhen. That makes senses as eForChina.com is an online store of electronics. I used Google Map to search the contact address they indicate at their site and confirmed that it is a legitimate office building.
In the popular Chinese foreign trade forums, I found some topics talking about the China-based online store. In addition, I read carefully all the important details indicated on their official site both in English and Chinese. As I always do, I used different search engines to hunt for related reviews or comments on the site. Here are my summaries:
The website was launched in 2008.
Their company size is no more than 100 full-time employees.
Seeing that few reviews about the site exist on the Internet, they are not a big name on the global market.
Their registered Chinese company name is: Shenzhen Yuekeda Technology Co., Ltd
Although not famous among the Chinese international trade arena, eForChina is a legitimate company that does serious business with buyers around the world based on my personal judgment.
Complaints or negative reviews about eForChina can be hardly founded online.
They are doing pretty well in video marketing by using world-famous video showcasing websites like Youtube.com.
Their contact phone number works, in a professional way – I've tried the number myself! This is an important sign that further proves that the company does exist and provide services.
The site is easy to navigate or place an order. Each product is very clearly showcased with high-resolution images, specifications, prices for different order sizes, shipping methods and time and the like. Based on my testing, it takes only a few minutes to complete a checkout process.
Some on-sale products are available with one or more free gifts (usually related accessories).
Product Line
All kinds of electronics are the dominating product line of eForChina.com. The site itself clearly shows this piece of information by highlighting various electronic products. Their major catalogs include tablet PCs, mobile phones & accessories, iPad & iPhone accessories, gaming, computer & network, spy & security and consumer electronics. Besides, they also carry some other cool stuff like fashionable jewelry, watches, clocks, LED lights, RC toys or outdoor gear.
Prices
I compared some of their products with those offered by similar websites such as Priceangels.com, Tmart.com or Focalprice.com. Based on my research, the site has pricing advantage over their competing sites, especially for promotional items, the differences can be huge. For instance, the following widely sought-after 8-inch Vi30 tablet PC is for sale at 166.79 with free shipping on eForChina.com, while at $189.51 at Priceangels.com as well as at Focalprice.com.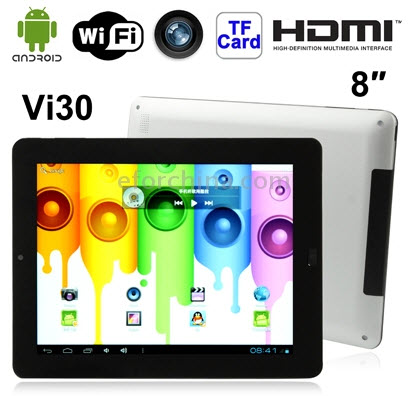 See the details of the tablet PC here >>
Anyway, as these sites are all tested trustworthy Chinese suppliers of electronics, you are always encouraged to use them to compare prices between the same or similar products in order to get the best deals.
Shipping & Payment
The site has a number of shipping methods to choose from, including DHL and China Post. For ground shipping, it takes about 15-25 days for an order to arrive at the destination; for expedited shipping (for which you may have to pay an extra fee), it requires about 2-5 days only to major destinations. Note that for free air mail, if you want to get the tracking number, you will have to pay $1.99 at checkout.
The payment methods accepted by eForChina include PayPal, Western Union, MoneyGram and wire transfer. As for online shopping at any website like eForChina.com, I highly recommend you to use credit card to make the payment as it can best guarantee your safety. When you encounter a scam, you can request a chargeback and you won't lose your money.
Take a look at eForChina.com >>
5 Responses to "eForChina Review: Key Messages to Help You Evaluate the Chinese Electronic Supplier"
Leave a Reply