With so many advanced smartphones flooding the global market, the Thunder quad band dual SIM cell phone may not be so noticeable among high-tech mobile fanatics. But if you look closer into the details about the made-in-China phone, you will know why it has been among the top-selling on the China wholesale electronics website ChinaVasion.com for such a long time.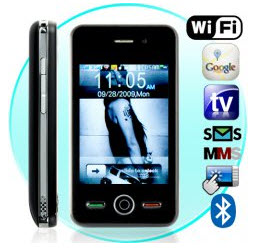 Major Features & Performance
The Thunder quad band dual SIM cell phone has a 3 inch touch screen that is big and responsive enough for users to enjoy an easy and fast operation of the phone. The slick body enables you to feel a smooth edge when holding the phone in hand. Besides, the slide motion sensor makes it super easy to navigate the menu system. The view of a video can be adjusted from portrait to landscape view simply by turning the phone sideways. What is more amazing, you can change songs, TV channels, wallpapers or FM channels by a simple shake of your wrist.
As a quad band Chinese mobile phone, the Thunder is compatible with GSM frequencies (quad band): 850MHz, 900MHz, 1800MHz or 1900MHz. Before you purchase the phone, you need to make sure that any of the GSM frequencies works in your country or region. With a dual-SIM card slot, you can use two SIM cards in the one phone at the same time – one for business use, the other for personal use, for example. Of course, you don't necessarily have to use two SIM cards. When you just need one SIM card, just let the other one closed.
The media features of the Thunder quad band dual SIM cell phone are particularly great. Empowered with Bluetooth capacities, the phone can be used with a handsfree earpiece or Bluetooth enabled audio system. Making phone calls becomes convenient and safe, especially when you are on the move. In addition, you can play your favorite MP3 files through your Bluetooth ready car sound system, watch analog TV, listen to FM radio stations, make high quality videos or take clear pictures with the powerful cell phone.
When it comes to the messaging functions, the Thunder quad band dual SIM cell phone supports SMS text messaging, MMS picture messaging, chat and voice mail. Its call quality is good – the sound it clear and sound enough.
Pricing
Combining the good looks of iPhone with the great features of an advanced business cell phone, the Thunder quad band dual SIM cell phone is only shy on its pricing. On the well-known China wholesale electronics shopping website ChinaVasion.com, the phone is offered at $100.13 USD only for one-piece orders. If you order more than 1 piece on the Thunder, you can get a lower wholesale price. The more you order, the better prices you will be able to enjoy. For cell phone re-sellers, this cheap quad-band dual SIM cell phone is definitely a great option for making high margins.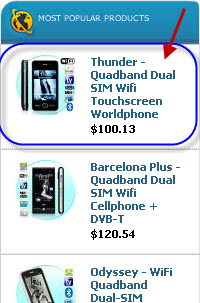 For more details about the specifications and prices of the Thunder quad band dual SIM cell phone, click here.
You may also want to read:
Images courtesy of ChinaVasion
Tag: Chinavasion Phones Review
2 Responses to "Thunder Quad Band Dual SIM Cell Phone: A Simple Yet Powerful Phone"
Dual sim card Says:
April 24th, 2013 at 9:49 pm

Nice quotes.. But can you please mention anything about warranty or guaranty.

Admin Says:
April 24th, 2013 at 10:21 pm

Hi there, for warranty or guaranty, you are encouraged to go to the product page or confirm with their service people. We are not a seller so we can't provide the related information in such detail. You know, different shopping sites have different policies regarding warranty or returns, exchanges or refunds and different products are covered with different warranty policies even within the same site.
Leave a Reply