With so many advanced smartphones flooding the global market, the Thunder quad band dual SIM cell phone may not be so noticeable among high-tech mobile fanatics. But if you look closer into the details about the made-in-China phone, you will know why it has been among the top-selling on the China wholesale electronics website ChinaVasion.com for such a long time.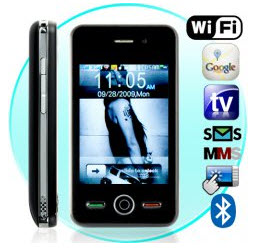 Major Features & Performance
The Thunder quad band dual SIM cell phone has a 3 inch touch screen that is big and responsive enough for users to enjoy an easy and fast operation of the phone. The slick body enables you to feel a smooth edge when holding the phone in hand. Besides, the slide motion sensor makes it super easy to navigate the menu system. The view of a video can be adjusted from portrait to landscape view simply by turning the phone sideways. What is more amazing, you can change songs, TV channels, wallpapers or FM channels by a simple shake of your wrist.