Before  you read ahead: the following top China cell phones were all the rage in 2009 and all of them are no longer available on the market now as they are already out of fashion. For information on 2013 latest popular Chinese cell phones for sale online, please check out the Wholesale Electronics & Cell Phones Reviews category.
——————————————————————————————————————————————
Why so many people buy China cell phones? The answer is simple: cell phones made in China are cheapest at price but equally rich in features. The up-to-date features like WiFi, TV, dual-SIM, dual standby, transparent keyboard, quad-band etc can be easily found in China brand cell phones.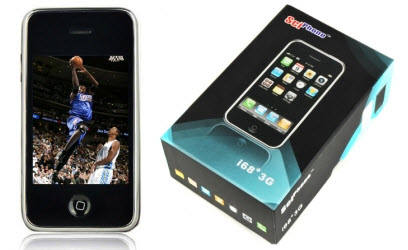 As a huge cell phone manufacturing base, China has become the best cell phone sourcing marketplace. More and more cell phone brands emerge with more and more amazing features. Seriously, when you get deeper into the China cell phone market, you will be often surprised by different great cell phones. I have a personal list of best China cell phones in terms of types and if you are interested, read on to see how I list these cell phones.
Sciphone i68
The Sciphone i68 has been recognized as damn similar to iPhone. Apparently the Sciphone i68 has taken the design and features from the iPhone: slick body, wide touch screen, Bluetooth, etc. By a glance, you might not be able to tell the difference between an iPhone and a Sciphone. However, they do differ from each other, not only on quality, but also on prices—an iPone 3G costs you more than 500 USD, but how about a Sciphone i68? 50 USD can be enough! Other lovely features a Sciphone i68 is equipped with include quad-band GSM connectivity, both finger and stylus input, FM tuner, G-sensor for user-friendly navigation, Java support, shake and tilt, etc.



Sciphone i9
The Sciphone i9 has most of the features the Sciphone i68 has. It is actually an upgraded version of the latter. The biggest difference lies in the fact that the i9 has a dual-SIM card slot, a better digital camera, and FM radio recording capacity. If you love Sciphone i68, you will definitely love Sciphone i9 even more.
CECT P168
The CECT P168 is another clone of iPhone. Its appearance looks really like the iPhone and it does almost everything that you could do with an iPhone. Although the CECT P168 is one of the first clones of iPhone, it has been always regarded as also the best. Its phone call and image quality are remarkably good. You can use a CECT P168 to take photos, watch videos, listen to radio, enjoy MP3, look up words from dictionaries, etc. And one more attractive thing is: unlike iPhone, it is completely contract free!
CECT KA08
If you are looking for mini iPhone clones, seriously, you really should consider CECT KA08. In addition to its fashion slim shape, this China brand model is available with several beautiful colors to choose from, especially suitable for girls—be she a wife or a girlfriend. With a small size, it can be easily held in one's hand or stored in a pocket. When it comes to the features of CECT KA08, you will find almost every feature other best iPhone clones have. Besides, it features a loud speaker, handwriting and voice recognition capacities. Unfortunately, it does not have Java support—if Java is among the necessities for choosing a China cell phone, I suggest you go for the Sciphone i9.
Recommended China wholesale marketplaces for sourcing top China cell phones:
Tag: AliExpress Wholesale Mobile Phones
8 Responses to "Top China Cell Phones"
Leave a Reply