Now many made-in-China cell phones are equipped with the Android 4.0 or Android 4.1 OS. Though it is hard to judge whether the mobile device is advanced or not simply by the OS it uses, we can at least be assured that phones supporting the higher-level Android 4.0 or Android 4.1 OS allow us to download lots of trendy applications. Of course, the actual performance can vary significantly depending on the specific features and capacities. Here are some of the best Android 4.0 and Android 4.1 China cell phones available at Chinese sites: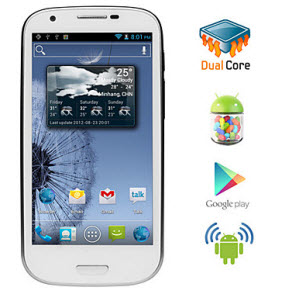 Current price: $169.99 at Lightinthebox.com (read the review of the site)
This Triton Android 4.1 smartphone supports the latest Android OS: Android 4.1. Amazing features of the model includes 3G, dual-SIM, GPS, dual-core 1GHz CPU, Wi-Fi/GPRS, up-to-400-hour stand-by time and up-to-7-hour talk time, 480×800 screen resolution, LCD capacitive multi-touch screen, dual cameras with o.3mp and 8mp and more. It is the best rated (by a total of over 550 real customer reviews) Android mobile phone at Lightinthebox.com. See more details >>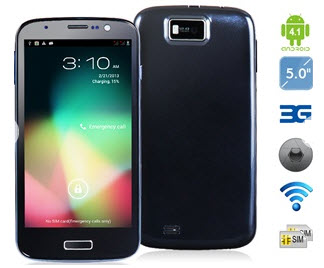 Current price: $199.00 (free shipping/cheaper if ordered in bulk) at Focalprice.com (read the review of the site)
If you are looking for a high-end Android smartphone with the most advanced features, this Newsmy NM890 5.0″ phone is worth consideration. Though it is a little more expensive than the phone mentioned above, it is better in terms of performance as well as features. Here are the major differences:


Just take a look at the detailed review posted by one real user of the Newsmy NM890 cell phone:
"I was very pleasantly surprised at how good the phone is, it comes with 1 screen protector. It has Google play installed. The phone is not rooted. AnTuTu v3.2.1 benchmarked at 12328 with a 32GB micro sdhc class 4 card installed. Everything works well, phone is very responsive, screen is a pleasure to look at. Every app I have installed has run without problems. There is no lag when running multiple apps. The camera works well but pictures in dark are a little grainy, zoom is done using finger pinch it also has panoramic mode. The 3 major gripes I have are: (1) Does not sync with Google, I have tried a lot of things to get it to sync but it just won't, yet it will sync with hotmail. (2) The wifi signal is somewhat weak and sometimes drops out. But this could just be my particular phone that has a problem. (3) The other thing it does not seem to do is a system update, it keeps saying "network connection failed" I will be contacting Focalprice with these 3 problems for advice"
See more details of the smartphone >>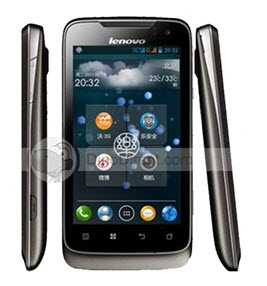 Current price: $161.69 (free shipping/cheaper for iDinor VIP members) at Dinodirect.com (read the review of the site)
The Lenovo® A789 Android 4.0 cell phone is now all the rage at Dinodirect.com. When talking about Chinese cell phones, some people believe that they are cheaper because of being less in quality or performance. It is not always true. It is only a matter of choosing a right model from a trusted brand. For instance, Lenovo and Huawei are doing a good job in designing and manufacturing good quality smartphones at highly affordable prices. This model has a responsive 4'' touch screen and all the high-end features of the latest smartphones. See more details of the phone here >>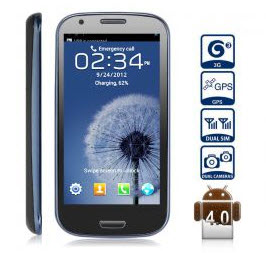 Current price: $137.62 (cheaper if ordered in bulk) at Ahappydeal.com (read the review of the site)
The FeiTeng GT-i9300+ Android 4.0.4 3G smartphone is rated 4.6 out of 5 at Ahappydeal.com. Unlocked for worldwide use, this Chinese mobile comes in 1.0GHz CUP, 4GB ROM, 512MB RAM, 4.7'' screen size, 8MP+0.3MP dual cameras with flash light and auto focus, 4GB internal memory and up-to-32GB external memory (not included) and lots more other popular features. Compared to other made-in-China Android 4.0 smartphones, this one is highly cost-effective. Anyway, the current price is just for a limited-time promotion only and it may change to a higher price anytime. See more details of the smartphone >>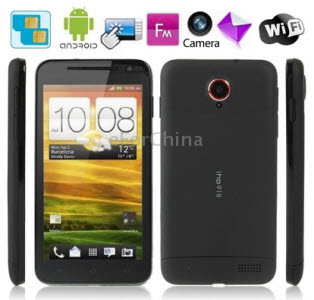 Current price: $100.58 (free shipping/cheaper if ordered in bulk) at Eforchina.com (read the review of the site)
This F918 smartphone uses the advanced Android 4.1.2 OS so that users can download plenty of wonderful applications. In addition, it has most of the widely sought-after functions like dual-SIM or dual-standby, dual-camera, WiFi, Bluetooth or gravity sensor. However, when it comes to made-in-China smart phones, lower prices usually mean less on something. Its primary camera is less impressive with only 5MP and the TF card capacity it supports is up to 16GB only. Anyway, if you do not care about such features, this Chinese Android phone should be a good choice especially when considering its attractive value. See more details of the smartphone >>
More top-rated Chinese smartphones with latest Android OS will be introduced here as they are spotted.
You might also be interested in the following post:
Leave a Reply