The Chinese store Tmart.com (see the detail review of the site) has a long list of coupon codes that apply to select items for a limited-time only. By using the designated coupon code for any product listed on the promotional page, you will get 10% to 55% off right away. Note that the coupons are valid till April 14, 2013. If you see any deal you love, do remember to take it before the deadline, otherwise the price may rise up quite significantly.
Unlike traditional coupon offers with one particular coupon code applying to various products, the April 2013 Tmart coupon codes vary by discount scopes depending on specific products. For instance, while you can use the coupon code "HOMEOF05" to get 29% off on temperature sensor RGB 3 colors changing LED bathroom handheld shower head (see the image below), you have to use the code "PPAREL03" in order to reduce the price by 17% for the sexy sheer purple babydoll lace lingerie with G-string matching thong (also see the image below).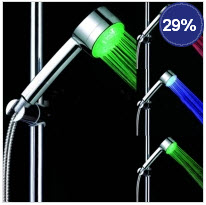 $6.99 after discount (in stock at US warehouse)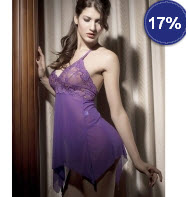 $8.97 after discount (in stock at US warehouse)
In addition to the examples shown above, there are 26 other products to choose from, covering categories such as mosquito nets with shower head, TV mounts, color-changing LED light shower heads, sexy lingerie and stylish earrings. Each product has an exclusive coupon code to cut the price by the detailed discount scope. Check out all the products & coupon codes here >>
I notice that most of the products included in the Tmart April sale are in stock at their US warehouse. This means if you order the product labeled with a US warehouse price, you can get it delivered in a few days only.
Low pricing is always the very advantage of China-based online store Tmart.com. Now given the huge discounts, the products on sale are available at super low prices. After browsing the reduced-prices, I realize that they are already at the rock bottom level. The bed mosquito nets are priced at $4.99 or $5.99 only, same low as those at Taobao.com, the biggest Chinese domestic retail shopping site. Also, I myself am selling fashion jewelry at Aliexpress.com (Store No. 816613) and I have to confess that their prices for the select earrings in this promotion are unbeatable though I don't think they are as good as mine in terms of quality or styles.
You can compare their prices to those at some Chinese sites similar to Tmart.com to make sure you are getting the best deals:
Note: the sites may carry one or more products similar to those on sale at Tmart.com with the April limited-time coupon codes.
Leave a Reply