The 2013 April Fool's Day has just gone but the special sale for this holiday of fun is still on the go at Dinodirect.com, a popular Chinese international shopping mall. As I often mention, Dinodirect.com launch coupon codes regularly and frequently and you should really search out some useful Dinodirect discount codes before you place an order there. That way you can save even more.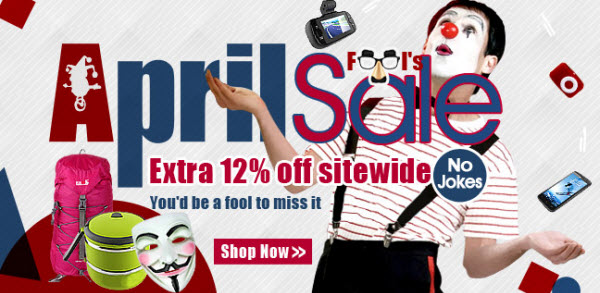 This time, they are offering an extra 12% off any products sitewide, including their bestselling category tablet PCs. Just by entering the coupon code "FOOL" during the checkout process, you will get the discount off instantly. Based on my information, the offer ends April 8th, 2013.
If you do want to shop there, you gotta hurry up and seize the deals before they are gone. Though you might see the same good deals in the future, but they do not often release coupon codes that apply to all products sitewide. That means you may not able to get the discount for the products of your interest if you choose to "wait and see".
On their 2013 April's Day sale page, they are listing some hot-selling products for your reference. Here are some of the products included: women's dresses, sexy silicon strapless bras, bikinis & swimsuits, women's skinny pants, men's vests, men's polo shirts, men's short pants, cell phones, watches, tablets, car DVR rearview, portable car GPS, intelligent medium speed PTZ cameras, LED digital alarm clocks, home security alarm system, leather messenger cosmetic bags, men's sports shoes, protective cases for iPad, new iPad and Samsung, wireless routers, tripod holders for cameras, MP3 players, digital cameras with long focus and wide angle, stainless steel bento launch boxes, stylish wall stickers, game consoles, RC robots, masks for parties or cosplay, rayon blankets, synthetic hair wigs, curtains, RC helicopters and more. See? The product range the site covers is really wide.
As a China-based virtual mall, the Chinese store Dinodirect.com is a better choice compared to Ebay.com or Amazon.com in terms of pricing, especially if you are lucky enough to get the deals. However, the site is far less famous or trusted than the two top brands. Their major downsides are: the quality is less assured and the shipping time is generally longer as their major warehouse is based in the mainland China. For more detailed introduction to the Chinese site, please read Dinodirect Review: A China Wholesaler or A China Wholesale Transaction Platform?
Leave a Reply