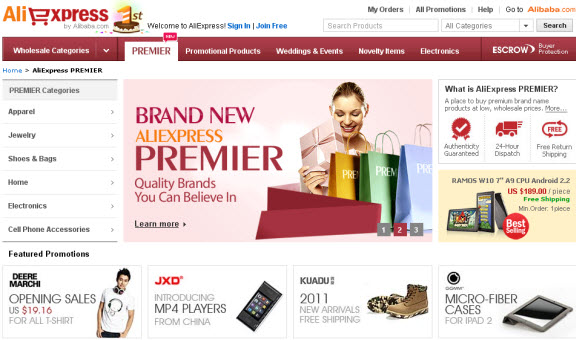 On April 25, 2011, as a part of the AliExpress 1-year anniversary celebration, the new section AliExpress Premier was officially launched. Here are the major features of the AliExpress Premier:
All suppliers there are licensed so you can be 100% confident in trading with them.
All products offered on Premier are genuine name brand items. If you find a fake, you can get 3x your money back. It's guaranteed!
All orders will be shipped within 24 hours of the confirmation of your payment.
If for any reason you are not completely satisfied with the item you purchased, you can return the shipment without covering the shipping fee.
As AliExpress.com is a transaction platform for small wholesale orders connecting various suppliers and buyers, it may take some time to filter out reliable or dependable suppliers there. The AliExpress Premier channel may help you save the time. All suppliers there are selected and verified carefully by a professional team of AliExpress. They have a proven record of doing honest business with buyers from all over the world. Besides, these suppliers provide good quality items as well as satisfactory services and have earned a high reputation among their customers.