Since late Sep., store owners have already started to stop up on Christmas supplies. Among all, Christmas gifts are obviously one of the most widely sought-after items. In particular, novelty gifts for Christmas 2010 are high in demand across all nations or regions where Christmas is celebrated.
In China, there are a variety of novelty gifts for Christmas 2010 available on many online international stores. Some of the gifts are just beyond people's imagination. I meant it. If you do not take a look yourself, you may not be able to imagine how creative and fun such gifts are. To guide you through the shopping for this kind of gifts, I selected some typical novelty gifts from the famed wholesale platform AliExpress, just for your reference.
1. Novelty Money Saving Boxes –Automated Cat Stealing Coins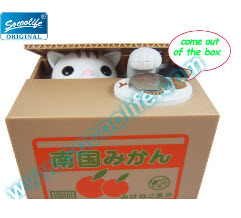 Price: $14.45 – 18.78 / piece
The fashionable money saving box is really cute and fun. When you put a coin on the plate, the cat will come out of the box automatically and take the coin into the box. How magical! All kids would love this lovely money saving box!
2. Jeans Wallets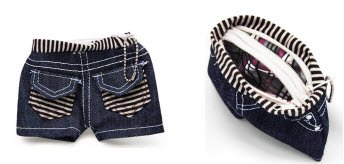 Price: $4.56 – 5.00 / piece
The jeans-shaped wallet looks stylish and special. It is a great novelty item to gift kids or adults, especially girls. This unique wallet is now particularly popular among students of primary schools, middle schools, high schools and even colleges, who buy it to gift their classmates. For adults, such a creative item is perfect for gifting common friends.
3. Nostalgic Cotton Candy Makers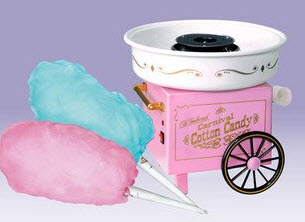 Price: $15.59 – 18.58 / piece
Look at the design of the cotton candy maker, doesn't the cart look like an antique? For those who love vintage style gifts, this one could be an ideal option. The maker can spin sugar into delicious cotton candy in just a few minutes. Besides, it's very easy to clean up. Apparently, this easy-to-use cotton candy maker is one of the best novelty gifts for Christmas 2010.
4. Air Guitars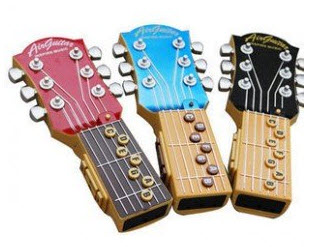 Price: $10.00 / piece
See? It's only the upper neck of a real electric guitar but it can play songs equally well. Different from traditional guitars, the strings of the air guitars are infrared ray that makes the sound as your fingers hit the fretboard. Isn't it cool? This novelty item is an amazing Christmas gift for guys or boys. Of course, girls who love playing guitars or simply love music may adore the gift too.
5. Laser Gun Alarm Clocks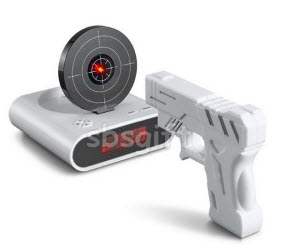 Price: US $21.89 / piece
The laser gun alarm clock is one of the latest novelty alarms that sell well on the global market. The essential aim of the design is to force people to get out of bed to accomplish a task. When the alarms clock rings, you need to shut it up by shooting to hit the bulleye. As high accuracy is needed to hit the target, you must wake up completely to keep the clock quiet. This funky alarm clock is definitely a wonderful Christmas gift!
In addition to the above mentioned novelty gifts for Christmas 2010, we can find a wealth of other creative gifts suitable for different groups of gift receivers. All of them are creative, fun and highly affordable. Click to view More Novelty Gifts for Christmas 2010.
You may also want to read:
2 Responses to "Novelty Gifts for Christmas 2010: Creative, Fun and Affordable"
Leave a Reply