Special offers are always a powerful incentive for stores or sellers to promote their products. Likewise, almost all buyers would admit that they love special offers. For seasoned buyers, when they start shopping from a new store, they would never forget to take a look at the special deals the store offers. Everyone knows about the attraction of special offers: deep discounts and limited-time low prices can help us make huge savings. Who would be able to resist such a great temptation? At least for smart buyers, they wouldn't.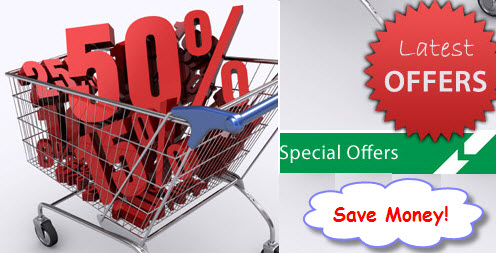 As the world's biggest manufacturing hub of all kinds of products, China has been attracting an increasing number of buyers from all over the world. Also, thanks to the fast development of e-commerce, international logistics as well as payment services, shopping direct from China has become super easy and convenient.
On ChinaWholesaleReviews.com, we've been introducing to our readers the products, services and brands of some renowned China-based shopping websites, including Lightinthebox.com, Milanoo.com, DavisMicro.com, Vankle.com and Chinavasion.com. All we've been doing aims to help global buyers shop smart from the Chinese wholesale stores. Here we would like to tell you some tips on how to find special offers, both regular and irregular, on different China-based web stores.
In general, China's international online stores feature the following major types of special offers. We've introduced them in fine details through a series of 6 independent feature articles. Just click the link to read each.
1. Discounts: How to Find Discounts on China's Online Shopping Websites?
2. Limited-time Offers: Grab Limited-time Offers before They're Gone!
3. Free Shipping Deals: Are Free Shipping Deals Really Free?
4. Clearance Sale: What to Benefit from a Clearance Sale?
5. Featured Special Zones: Featured Special Zones: The Can't-Miss Ways to Find Great Deals
6. Coupon Codes: Find Coupon Codes before Placing An Order
In addition to the above introduced special offers, there are some other forms of specials launched on a relatively permanent or temporary base. Remember to take a good look at the homepage first when you visit a new website—the most important promotional information tends to be displayed there. Then, open the category you are interested in buying any item from to see if any promotional banners are posted there. Finally, you can choose to search more shared information about the website's special offers via a search engine like Google or Yahoo.
Click to view the lates Coupon Codes and Promotions on different China-based online shopping websites.
Image courtesy of Google
Leave a Reply