Image courtesy of Google
When it comes to free shipping deals, most buyers have the same concern: is the shipping really for free? Obviously, they are not questioning the shipping cost itself. Instead, they doubt that the so called "free shipping" is based on a higher price of the product itself. That is, the shipping fee has been transferred to the item price.
In most case, this is true and it has become a common rule among stores or sellers. Based on my study, the very essence of free shipping deals lies in the percentage of discounts a store or seller is able to gain from shipping carriers. If a deeper discount is obtained, less cost will be transferred to the item price so buyers can get a better price for the whole cost on the item. Basically, only when a store or seller is able to get a very deep discount on shipping, will an item is offered for free shipping. It all depends on the size and reputation of the company or seller. Sometimes a store can even get a shipping discount up to 90% off. So you have enough reasons to adore free shipping deals as the shipping fee contained in the item price is usually very, very low. You know, the ultimate purpose to find free shipping deals is to save cost.
In some cases, shipping fee is not transferred onto the item price at all. As a result of the fierce competition among the array of Chinese online shopping websites, many of them choose to subsidize shipping fees to enlarge their customer base. In such cases, these companies generally have to compromise their profits—sometimes they even have to bear a loss. Such a marketing strategy is not uncommon today. Just see the price competing war between the two famous Chinese domestic B2C websites Dangdang.com and Joyo.com, you will know this is true. Free shipping is a frequently used marketing approach on both Dangdang and Joyo while the item prices are at the same time the lowest in the Chinese domestic market. How could it be possible? It is easy. The two companies pay shipping fees for their customers. That may partially explain why they are said to be still losing money.
In addition, one great thing about free shipping deals is: you don't have to calculate the shipping cost for the item you are interested in. Currently, Milanoo is the only Chinese website we've detected that offers site wide free shipping. For every item available on Milanoo.com, you can get it delivered to your place for free shipping. However, if you need expedited shipping by a shipping method designated by you, a shipping fee of $5 or more will be charged.

Image courtesy of Milanoo.com
On the homepages of Lightinthebox and DavisMicro, you can find a special section exclusive for free shipping deals. For other cross-border online shopping stores, free shipping is more than often a commonly used incentive included in other types of special offers. For example, Vankle's Weekly Deals often feature free shipping service.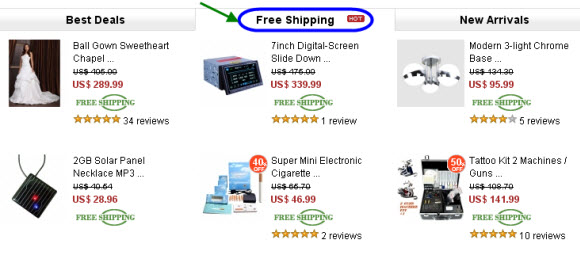 Image courtesy of Lightinthebox.com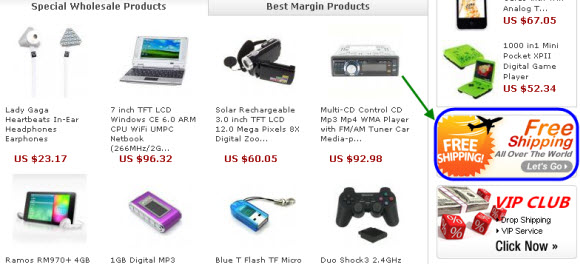 Image courtesy of DavisMicro.com
For more money-saving tips, you can read the series of feature guides to special offers on different China-based online shopping websites:
Series 1: How to Find Discount Offers on China's Online Shopping Websites?
Series 2: Grab Limited-time Offers before They're Gone!
More series are coming soon…
Click to view the latest Coupon Codes & Promotions available on different online shopping websites.
7 Responses to "Are Free Shipping Deals Really Free?"
Leave a Reply