BrandsDragon.com = AHappyDeal.com = DavisMicro.com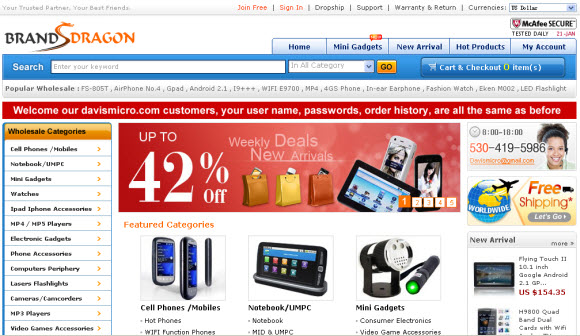 When someone mentions BrandsDragon.com to you, you may know nothing about the online wholesale store of China branded electronics, while some people have been quite familiar with DavisMicro.com, which was founded in 2006. Over the past half year, a few voices about BrandsDragon scams arose mainly because some people mistook BrandsDragon for a phishing website or a clone of DavisMicro. Actually BrandsDragon and DavisMicro belong to the same company: Yilutong Trading Co. Ltd, a legitimate export firm based in Shenzhen, and the former brand officially replaced the latter one on around January 8 when the "BrandsDragon" logo went live on the company's website.

For more detailed explanations about the relationship between the two brands, you can read our previously published post: BrandsDragon and DavisMicro?
Business Scope of BrandsDragon
Having changed the brand and logo, the company maintains most of its old businesses and has been adding more and more new products and services for its global customers. As an online wholesale store of cheap China wholesale electronics, BrandsDragon has a vast array of electronics-related categories, including cell phones, laptops, notebooks & netbooks, MP4 & MP5 players, mini gadgets, laser flashlights, surveillance equipment, accessories for iPad, iPhone, video games and other world renowned brand mobile gadgets, car electronics and much more.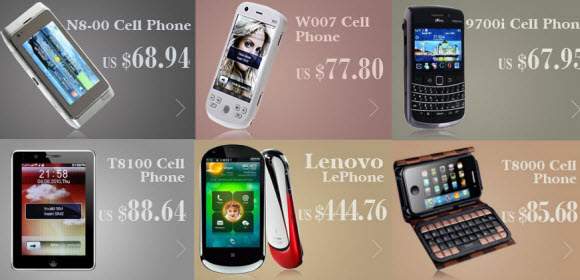 Based on our findings, over 90% of its China branded electronics is offered at lowest prices on the China wholesale market. Though BrandsDragon focuses on small wholesale business, it offers competitive wholesale prices on retail orders quite extensively too. Besides, you can also negotiate with its customer representatives for a better price. The unbeatable pricing advantage may be one of the reasons why BrandsDragon has been developing so fast over the past two years. So far, the online wholesale shop of electronics has built a remarkably huge customer base around the world. Most of its customers come from European and American countries or regions and a significant number of them are repeat customers who bought from DavisMicro before.
Instead of offering counterfeits or fake items, BrandsDragon provides non-mainstream China branded products. These products feature good quality, advanced and practical functions as well as low prices and high re-sell margins. Some of them can be even comparable with big brands in terms of quality and features. We find some buyers on the Internet complaining about BrandsDragon frauds or BrandsDragon scams, for they thought what they purchased from BrandsDragon are not authentic. From our point of view, such complaints are unfair as BrandsDragon or DavisMicro states clearly on its website that what they sell does not carry any big brand names like Apple, iPod, Nokia, Samsung, Sony, etc. See more details >>
Most brands of the products available on BrandsDragon.com may be not famous in the world, but are hot among re-sellers worldwide. Some of the products there even don't have any brands on them at all so you can put your own logos for your re-sell business. If you order over 500 pieces in a single purchase, you can also ask BrandsDragon to customize the items with your logos based on your specific requirements.
Customer Service & Value-Added Service
BrandsDragon.com has a qualified team of customer service to handle pre-sales or after-sales issues. If you have any question, you can contact them by live chat (if online), phone call, email or Trouble Ticket.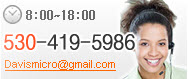 Live Chat: Click here to find the Live Chat service representatives at the right top corner.
Phone: 530-419-5986 (USA) or (86)-755-26063125 (Shenzhen, China)
Email: davismicro@gmail.com
Trouble Ticket: Click here to submit a Trouble Ticket.
Office Hours: Beijing Time (GMT +8) 8AM – 6PM Monday through Saturday
Return & Exchange Services
BrandsDragon has been adopting a complete set of Return & Exchange policies as below:
30-Day Money Back Warranty.
3-Month Exchange Warranty.
1-Year Repair Warranty.
The China branded electronics supplier BrandsDragon supports FREE drop shipping services for global buyers. By joining its Drop Shipping Group, you can sell the items to any corner of the world without keeping a physical inventory. Other benefits of using the dropship service include: enjoy lowest prices on any items no matter how many you buy for one purchase and have an exclusive sales assistant to serve you. See How to Dropship from BrandsDragon >>
The VIP program on the online wholesale store BrandsDragon offers a range of value-added services and privileges that will give even more benefits to its frequent buyers. The VIP membership is for free and can be applied based on average monthly transaction values. If your average transaction value reaches $1000 per month, you can apply for the VIP membership. See more details >>
Payment Methods & Shipping Methods
For payment, BrandsDragon accepts PayPal, credit card, Google Checkout, T/T, Money Gram, Western Union, etc. You can choose any of the payment methods for your order with BrandsDragon. See more details >>
For shipping, the China branded electronics shop cooperates with a number of popular shipping carriers, including EMS, UPS, DHL and Hongkong Post. You can choose a desired shipping method based on shipping fee and delivery time:
Flat Rate Shipping: Hongkong Post, 7-25 business days
Standard Rate Shipping: EMS, 5-10 business days
Expedited Rate Shipping: DHL or UPS, less than 5 business days
See more details >>
You might also want to read:
4 Responses to "BrandsDragon Review: An Online Wholesale Store of China Branded Electronics"
Leave a Reply