From our point of view, AliExpress is just like a wholesale supermarket – there you can find the biggest range of cheap wholesale items that are widely needed in people's daily life. From apparel to toys to electronics to houseware to any other wholesale commodities or customized items, AliExpress.com has everything retail store owners are looking for around the world. Below you will find some useful tips that may help interested parties shop great wholesale items at best prices and get a hassle-free and safe shopping experience on AliExpress.

First of all, in order to get a safe and pleasant shopping experience there, you need to know some basics about AliExpress before you place any order. We've been watching the development of AliExpress since it was officially launched in April, 2010. To be honest, we got full confidence in AliExpress from the very beginning. We knew the wholesale platform would become the world's biggest and best shopping website for small quantity orders. Based on our research, the wholesale transaction platform has been making great progress and grows really fast.

When it comes to sourcing cheap wholesale items from China, AliExpress.com is always worth considering. As an express trade channel belonging to the e-commerce giant Alibaba.com, AliExpress stands out by good credibility, safe transactions, complete product lines as well as satisfactory customer service among all competitors. The website has been focusing on small quantity wholesale business and its suppliers and buyers are mainly composed by small merchants. It provides Escrow service to make sure that the payment made by the buyers won't be released to the suppliers until the transactions are successfully completed without any dispute.

Buyers should note that all cheap wholesale items for sale on AliExpress.com are offered by various suppliers instead of AliExpress. Although all suppliers have been verified by AliExpress when they register their membership there, they may vary slightly or significantly in terms of product quality and prices, pre-sales and after-sales services, company credibility, etc. To find best suppliers who are honest and provide best quality and priced products, you are encouraged to check out their supplier levels, feedback scores, customer reviews and other details that are listed clearly in their profiles. For example, a Gold Supplier with a high feedback score tends to be more trustworthy.
Second, take advantage of various kinds of promotions or special offers as well as value-added services to save costs. Featured promotions, limited-time discounts or free shipping deals are frequently launched by AliExpress suppliers to boost their sales. In most cases, AliExpress organize these themed offers so you can spot them on the website's homepage banners or featured zones like "Promotional Products", "Bestselling Wholesale Products" and "SuperDeals". If you subscribe to wholesale alerts from AliExpress, you will receive emails with such promotions too.

For free shipping deals, you can filter them out by selecting the "Free Shipping" option on any search result page. All items labeled with an eye-catching "Free Shipping" mark are available for free shipping to all countries or selected countries. Also, AliExpress has recently launched a new service product called "Fulfillment by AliExpress" to help buyers reduce shipping fees. Likewise, you can find the "Fulfillment by AliExpress" on the search result pages. By using this service, in addition to saving up to 30% on shipping, buyers can enjoy pre-shipment inspection carried out by AliExpress Fulfillment warehouse staff and are able to better manage their combined shipments from different suppliers. View details about the Fulfillment by AliExpress >>

Third, consider the cheap wholesale items listed in the "Best Match" area first. Whether you search for an item on AliExpress or enter a sub-category page, you will find that above the long item listing there is a "Best Match" area displaying five items offered by five different suppliers. Based on our knowledge, these items are selected by a professional item sourcing team of AliExpress and tend to feature a higher level of quality. Similarly, the suppliers who offer these items mostly have a proven record of honest trading so you can be more confident when doing business with them and you don't have to spend too much time or energy to test the suppliers yourself.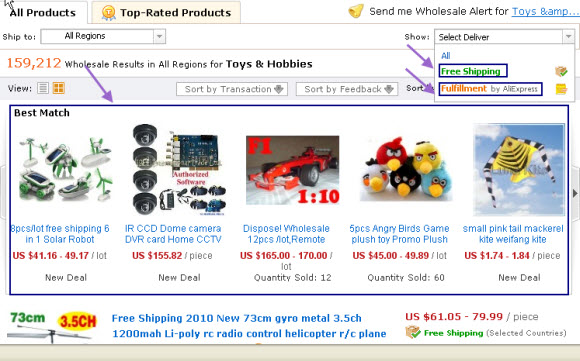 Fourth, buy samples or placing smaller orders before purchasing cheap wholesale items in bulk. It could be a time-consuming job to find out some good suppliers who offer quality but cheap wholesale items you want from the plethora of suppliers on the platform. Anyway, the best way to test the water is to make some real deals with interested suppliers without investing big money or bearing big risks. After you receive the items, you will find out which suppliers are better in service and can feel the quality by your own hands. Then, you can place bigger orders with suppliers you are happy to trade with. In this way, it's more likely that you will find some long-term business partners who will supply you with high quality wholesale items at competitive wholesale prices – and you won't encounter any hassles or risks!
Seriously, if you are looking for cheap wholesale items for resale, AliExpress.com should be a best choice. Voices about AliExpress scam may exist on the Internet, but trust us, you won't be that unlucky if you follow our tips to shop at AliExpress.
Top Wholesale Zones on AliExpress:
3 Responses to "Must-Read Tips for Shopping Cheap Wholesale Items at AliExpress"
BrandsDragon Review: An Online Wholesale Store of China Branded Electronics Says:
December 16th, 2011 at 12:44 am

[…] more and more new products and services for its global customers. As an online wholesale store of cheap China wholesale electronics, BrandsDragon has a vast array of electronics-related categories, including cell phones, laptops, […]

CAROLYN Says:
November 13th, 2014 at 7:56 am

Aliexpress has stolen my money and I have tried to contact them. Someone emails me back and forth and they lied and said there was a fire at the post office I should be getting my items in a few days. I placed this order in late September I received 3 items and I am still waiting on 3 more. I just want to say that I have been robbed and I want my money back.

Kebzor Says:
November 21st, 2015 at 5:20 am

It is really good to do some research beforehand, I like to go to watch videos on youtube of the stuff other people bought from Aliexpress although many of the links are usually inactive and long gone. Recently I found a great web site where you have videos and reviews and links to Aliexpress seller with no additional cost so I am going there a lot. It is called TopAliDeals.com Guys check it out because there are good deals on Aliexpress and the stuff is definitely worth it.
Leave a Reply