Hoping to be elegant before family and friends, but also mysterious and beautiful before her soul mate, every woman wants to own a perfect wedding dress which can meet all of her expectations in her once-in-a-lifetime event. Thanks to the intelligent designers and the development of textile technology, various beautiful styles of wedding dresses appear. As a matter of fact, for most women, they will seek for not only fashion, but also comfort, that means a dress should really fit their body shape.
In a previous article, we introduced the Lightinthebox Wedding Dress Collection for Spring 2010. In this article, we are going to introduce the top 4 wedding dresses trends for 2010.
The just-ended 2010 Paris Fashion Week shows that goddess-style and sweet garden-style are the two hot styles of wedding dresses in 2010. Since most women are dead keen on jewelry, in 2010, the most popular designers add more jewelry elements to wedding dresses, which can enhance the bride's noble and elegance. Undoubtedly, this kind of designs becomes the favorite of many women. Now, I will talk about some latest and hottest styles that can be found in the wholesale market. Perhaps you would say these beautiful wedding dresses may cost much, but if you buy them from a wholesale website, you will get shocked by the unbelievable price.
Trend 1: Metallic Luster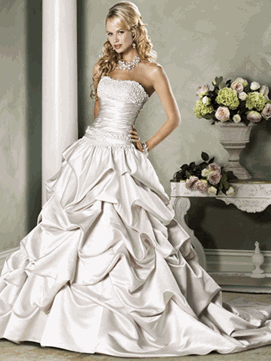 As the symbol of sacredness and purity ,white is the main color of traditional wedding dress in bridals .But nowadays, metallic luster with colors like platinum, silver, cream and ivory have won warm praise from more and more women .Naturally, when choosing the color of wedding dress, females at different ages will have different opinions, but cream and ivory are the common choice. If you want to let the bride's happiness and glory shines throughout the wedding, then the metallic wedding dress style is appropriate. Even if the wedding dress style is simple, the glittering gold or silver will brings much shining effect. Meanwhile, it will generate a bright look on the bride by embellishing some jewelry or diamond around her neck or wrists.
Trend 2: Pretty Pleats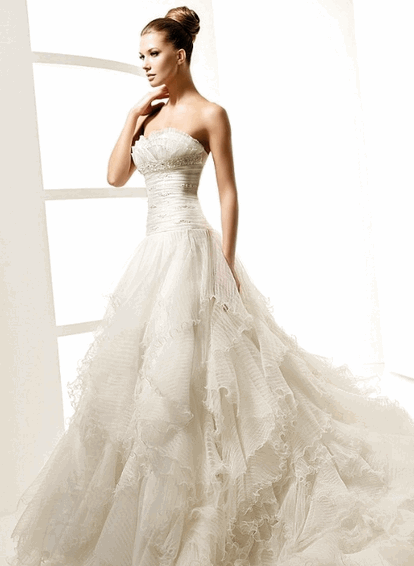 One principle of choosing wedding dress is which style of wedding you want? For example, sweet garden-style wedding dress will be more suitable for garden wedding,while modest and formal styles fit better for church weddings. For those who desire for a princess bride-style wedding, cascading wedding dress will be an ideal choice. With twill pleats and irregular skirt edges, this style of pleat wedding dresses can show the bride's beautiful body line.
Trend 3: One-shoulder Style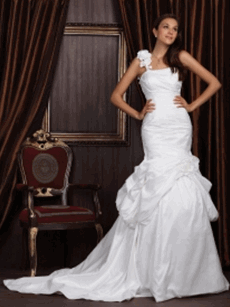 When it comes to one-shoulder wedding dresses, many people will think of the beautiful goddess from ancient Greek mythology. In recent years, one-shoulder style seems to attract a large number of customers. Designers creatively add some new details like twisted tulle and flower decoration to wedding dresses, which makes them more charming.
Trend 4: Girly Details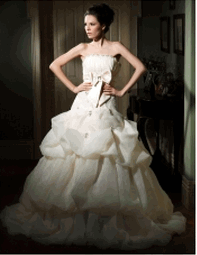 Young brides seem to prefer the more lively and more lovely wedding dresses. Large bows and twisted flowers are some of the hottest girly details on new wedding dresses. I really like this style, because I believe a wedding shouldn't be too formal or modest, and some girly details may create more easy-going and brisk atmosphere for the wedding.
If you want to shop the wedding dresses that set the trends for 2010, you can visit DHgate.com or Lightinthebox.com and check out their wedding dress collection. Both are China-based wholesale website offering great and latest styles of wedding dresses at attractive wholesale prices. No minimum order quantity is required, which means even if you are a consumer who purchases a wedding dress from either of the shopping websites, you will enjoy a much lower wholesale price. Of course, if you are a retailer or wholesaler who shops for your resell business, you will get even more lower wholesale prices as both websites offer more discounts on bigger orders.
Visit Lightinthebox Wedding Dresses category >>
For comparison, read Wholesale Wedding Dresses: DHgate VS. Lightinthebox >>
One Response to "Wedding Dress Trends for 2010"
Leave a Reply