Occasionally Chinese sites like to host a particular game for their customers to win coupons, gifts or other special offers. Now Dinodirect.com (read the detailed review of the site here) has a game-based promotional activity on the go. Just by shooting a target heart with the arrow, you may get a coupon or voucher, a gift card, a free shipping card, iDinor VIP membership or a gift from the category of Wedding Apparel & Accessories. What is more exciting, three iPhone 5 are honored as a prize for the game every day during the promotional period, which will last for about one month.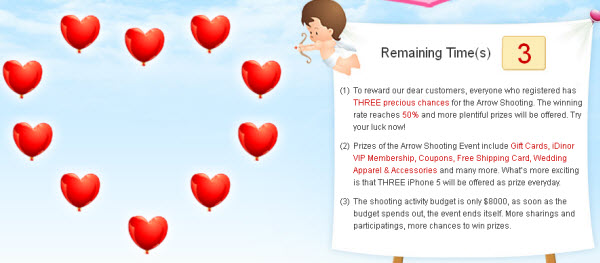 The shooting game is easy to play, a little bit like the one hosted by Aliexpress.com in January, 2013. Before you start the game, you have to register a Dinodirect account first. Of course, if you already have one, just use it to play the game right away. Every ID has three chances to win the benefits. Each chance has a winning rate as high as 50%. Some people said they had won 2 or 3 prizes with the three chances!
The detailed values of the coupon offers for the game at Dinodirect.com are as follows:
10% off any order sitewide
7% off any order sitewide $4 off orders of over $30
$6 off orders of over $50
$10 off orders of over $70
$12 off orders of over $100
The face values of the gift cards include: $1, $2 and $5.
If you are interested in trading with the Chinese online shopping mall Dinodirect.com, the game is definitely a great opportunity to cut your cost. Even if you don't have any shopping plan at present, it costs nothing to win the coupons or other special offers first, not to mention the tempting prize iPhone 5.
Why not give it a try now? Click here to play the game at the site.
Leave a Reply