A great groom wear outfit helps complete a perfect wedding, though brides and their wedding dresses are generally the focal point of the wedding. Anyway, without the compliment of a nice groom tuxedo or groom suit, the bride's wedding gown won't be able to look its best. The outstanding match of the bride's wedding dress with the groom's tuxedo will very likely wow the guests and make the new couple feel amazingly good on their big day.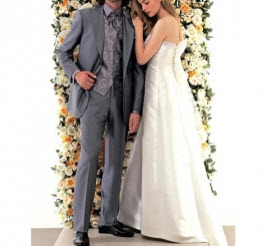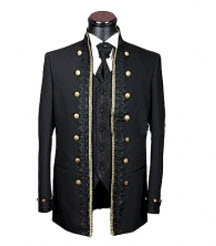 Who said only brides care about what they themselves wear on their weddings? Grooms care much too. Actually, most brides are willing to spend a lot of time shopping wedding tuxedos or suits for their husbands-to-be. Yes, they know well the secret! If you are one of these brides-to-be, or you are a man looking for a desired wedding groom tuxedo for your own, you may need the following tips to help you out and get best groom wear on an easy budget.
Today, cross-border e-commerce is developing very rapidly and it's equally easy to shop from a country that is far away. If you are seeking for a decent quality and stylish groom tuxedo but don't want to break the bank, shopping from China can be a smart choice. Lightinthebox and Milanoo are two big names we've found from the many international wedding apparel suppliers in China. If interested, read on to get more details.
Lightinthebox Groom Wear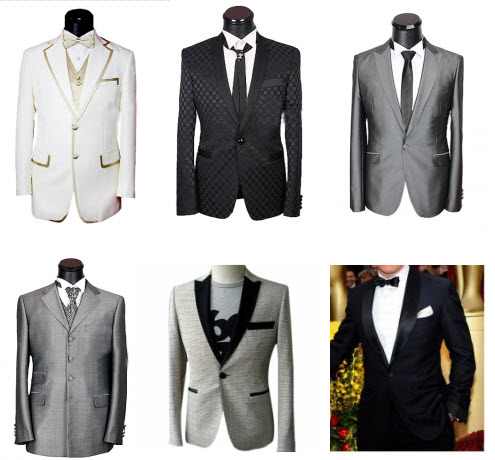 Price range: $100 ~ $200
In terms of global reputation, Lightinthebox.com obviously stands out. For years, Lightinthebox has been known for its premium quality items and satisfactory services. Though the online shopping website still has a lot to improve, we do see that it grows really fast and keeps making progress. Its CEO, Qiji, Guo, was the former CSO (Chief Strategy Officer) of Google China. It is extensively reported that Mr Guo maintains a very strict management style in the company and always encourages the employees there to pursuit superior performance.
Wedding apparel seems to be the backbone product line of Lightinthebox as the firm started its business right from wedding supplies, including wedding dresses, bridesmaid dresses, mother-of-the-bride dresses, groom tuxedos and all kinds of wedding accessories. To be honest, its wedding apparel is not the lowest priced among its Chinese competitors, but is definitely the most popular among global buyers. Why? From the sea of positive reviews left by its customers, we realize that the unbeatable quality standard and hassle-free services attribute the majority to its great success.
Currently, there are about 330 styles of groom tuxedos and 131 styles of groom suits to choose from on Lightinthebox.com. Also, you can find a wide range of other groom wear there, such as groom vests, groom outerwear, groom shirts and groom accessories. Given so many options, it's easy to find the exact style you want. Lightinthebox has a team of professional marketers to get the most trendy wedding groom fashion from Chinese manufacturers for its customers. If you take a look at its groom wear category, we believe you will be impressed by the vast array of handsome designs of suits and tuxedos for grooms there.
View Groom Wear on Lightinthebox.com >>
Milanoo Groom Wear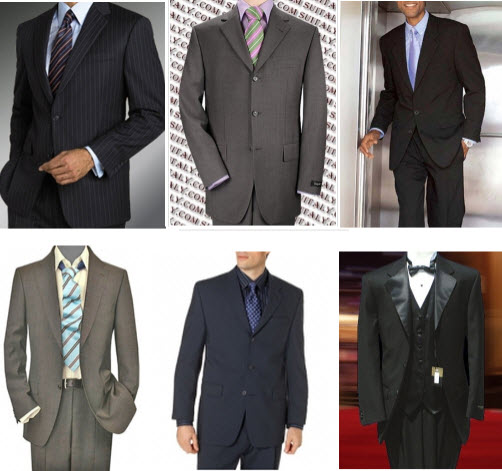 Price range: $95 ~ $120
Though so far Milanoo.com is not as famous as Lightinthebox.com on the global market, the Sichuan-based international shopping website can never be ignored by groom wear shoppers.
From the very beginning, Milanoo endeavors to become a giant name in the arena of international supplying of apparel and other fashion stuff. At this moment we can't confirm whether Milanoo has grabbed a significant market share or not. However, from the long-term observation, we do see that the fashion company keeps enlarging its product scope and a lot of efforts have been made to attract more customers.
Like many other e-commerce beginners, Milanoo has been adopting a low pricing strategy and launches special offers very frequently to build its customer base. Over the past year, Milanoo must have invested a significant amount of money in such a huge investment—if you visit the website often enough, you must be always shocked by the unbelievable prices it offers! Clearly, Milanoo understands that if it wants to make money, it must "give away" some money first. You know, even Amazon had been losing money for about a decade before it started to make profits. This is exactly how e-commerce companies survive and develop. On the other hand, for buyers, it's a great opportunity to save cost on your purchases! We always remind our readers that, if you find anything you want on Milanoo, shop early and take advantage of its low price and special offers, before they're all gone one day!
Unlike Lightinthebox, Milanoo started from selling cosplay costumes but soon it introduced a wide range of wedding apparel including groom wear. Now wedding apparel is obviously one of the biggest product lines on Milanoo. In particular, there are around 252 items of groom tuxedos on sale there, most of which are of classic styles. Recently, Milanoo is seen to frequently give exclusive offers with deep discounts on its groom tuxedos.
Leave a Reply