Where to Get the Best and Cheapest Wholesale Cosplay Costumes?
Today cosplay costumes have become more and more widely sought-after around the world and businesses related to wholesale cosplay costumes are also rising rapidly both in quantity and in revenue volume. In particular, cosplay costumes and cosplay accessories for the popular Japanese anime and Manga like Naruto, Bleach, Final Fantasy, Chobits, Kingdom Hearts, Sailor Moon, One Piece and more are extremely hot-selling in the world's market of wholesale cosplay clothing and accessories. This post is about to introduce some information about cosplay shopping online.
Like other China wholesale clothing, cosplay costumes from China are highly competitively in prices as well as in quality and variety. Currently, there are a number of online wholesale stores offering cosplay costumes and cosplay accessories. And Lightinthebox is one of them. On Lightinthebox.com, you will find a wide range of cool cosplay costumes (about 700 items) like Lolita cosplay costumes and Naruto cosplay costumes. Also, there you can see a lot of cheap cosplay wigs for sale. For instance, a Kingdom Hearts II Sora Cosplay Wig is offered at $39.99 only. But according to our knowledge, unlike dresses and cell phones, cosplay clothing is not the major revenue source of Lighitnthebox. As a result, promotions on cosply items are not so regular.


View Wholesale Cosplay Costumes on Lightinthebox >>

View Wholesale Cosplay Wigs on Lightinthebox >>

We personally believe that the best China based wholesale website offering wholesale cosplay costumes and accessories is definitely Milanoo. Why? As everyone can see, Milanoo is gaining its popularity in the world's wholesale market. But do you know that cosplay supplies are the first and major revenue creator of Milanoo? Based on our research, Milanoo started its business mainly with cosplay clothing and cosplay accessories and even now cosplay items are the biggest catalog of the website. In this sense, we call Milanoo is in fact a professional cosplay store rather than a general wholesale store specialized in a variety of item categories. Of course, we see that Milanoo is constantly enlarging its catalog range and other fashion items like wedding dresses, party dresses, handbags and shoes are growing in number.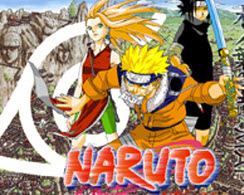 On Milanoo.com, cosplay costumes are categorized in terms of the characters and names of different cosplays. There are now 161 sub-categories of cosplay costumes, totaling to 2409 items, under its main category of cosplay customes. What a shocking number! So now you must understand how complete its cosplay costume catalog is and that we were not bragging by saying that Milanoo is a cosplay costume store. There you can find everything, yes, we mean everything, about cosplay clothing and cosplay accessories. And promotions on cosplay items are launched very frequently—it seems special offers on cosplay costumes or cosplay accessories come up one after another all year long. In general, Milanoo offers a relatively more competitive price range on its cosplay suppliers than Lightinthebox does and free shipping is available on all of its cosplay costumes and accessories. Furthermore, to find the best deals on cosplay costumes there, you can check its Daily Madness Deals regularly as the zone offers 1-day-only prices on some of its items.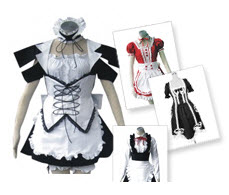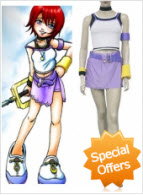 View Wholesale Cosplay Costumes on Milanoo >>

View Wholesale Cosplay Wigs on Milanoo >>
To sum up, the wholesale cosplay costumes available on Lightinthebox and Milanoo feature quite differently from each other and the following are some basic facts regarding these two wholesale websites' cosplay supplies:
Lightinthebox:

a total of 781 cosplay items, including 121 cosplay wigs; shipping fee charged; dropshipping available.

Milanoo:

a total of 2409 cosplay costumes with 161 sub-categories, plus 372 cosplay wigs; free shipping and dropship discount available.
3 Responses to "Wholesale Cosplay Costume Review: Where to Get the Best and Cheapest Wholesale Cosplay Costumes?"
China Wholesale Marketplaces You Should Know Says:
June 11th, 2010 at 8:41 am

[…] low priced deals on a variety of items including wedding dresses, ball gowns, handbags, cosplay costumes, shoes, sexy lingerie, etc. The prices offered in that zone are significantly lower than their […]

Where to Shop Cosplay Costumes for Sale Online at Wholesale Prices? Says:
October 8th, 2011 at 3:17 pm

[…] cosplay is getting popular around the world, the demand for cosplay costumes is growing really fast. Whether you are a cospaly fan or a re-seller of cosplay costumes, you may […]

Review of Lightinthebox Cosplay Costumes Says:
December 7th, 2011 at 5:57 am

[…] addition to the cosplay costumes, Lightinthebox also carries a variety of […]
Leave a Reply