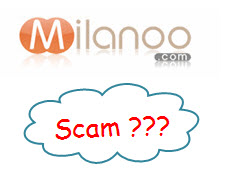 Over the past two years, as Milanoo developed amazingly fast, we notice that the so called "Milanoo scam" started to show up in some forums or blogs. It's not at all surprising to us. Being a devoted reviewer of the China wholesale market, we've been a witness of the development and progression of all major China-based international online stores.
Almost for every fast-developing store, it seems inevitable to encounter the dilemma that complaints or distrust about them emerges only naturally. We guess this is how noise about Milanoo scam comes out too. After all, no companies are born perfect. If the complaints arising amongst customers are within the appropriate range, it can only explain that the store still has some aspects to improve.
Based on our findings, Milanoo.com is one of such stores. Based in Hong Kong, it's a 100% legitimate company doing serious business with numerous buyers around the world. As a professional fashion stuff supplier, Milanoo is seen to have been working really hard on expanding its product lines and improving its services. Zentai suits are one of the biggest product lines there. If you kept watching the changes Milanoo has been made over the years like we did, you would agree to us immediately. Details are being perfected there on Milanoo.com in terms of products, website system and all kinds of services. After comparing the current look of Milanoo.com with its original version, you may be shocked to see what a big move the company has taken within such a short time. But Milanoo did it!
To be honest, the voices about Milanoo scam are very weak compared with its competitors. Occasionally, you may see a few unhappy posts complaining that they had an unpleasant experience shopping at Milanoo.com on the internet. On the other hand, positive and good feedback about Milanoo is overwhelming. Now it's easy to identify whether Milanoo scam is true or not, right?
More basic knowledge about Milanoo.com:
Founded in Hong Kong in 2008, its operation and logistics based in Chengdu, Sichuan Province;
Focusing on supplying a variety of fashion items, including wedding dresses, special occasion dresses, handbags, hairpieces & hair wigs, casuist, zentai suits or cosply costumes and much more;
Adopting 7-day Return Policy & 15-Day Exchange Policy;
Accepting PayPal, Western Union & Credit Cards for payment;
Accepting retail orders, wholesale orders as well as dropshipping orders;
Online real-time customer service available;
Supporting 3 languages: English, Spanish and French;
Being VeriSign secured.
For more details, you are encouraged to visit Milanoo.com to look around yourself.
6 Responses to "Is Milanoo Scam True or Not?"
Leave a Reply