Established in 2006, DavisMicro or Davis Micro (also named as "BrandsDragon") is a China wholesale shopping store dedicated to providing high quality cell phones and electronics at a competitive price to its customers. DavisMicro.com or BrandsDragon.com belongs to Yilutong Trading Co. Ltd, a legitimate company located in Shenzhen. Dropshipping to worldwide destinations is one of the best featured services the China wholesale shopping marketplace offers.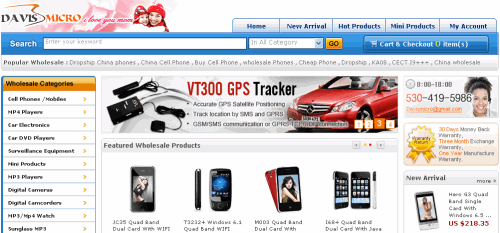 Item Catalog
From the extensive displays of cell phones on their homepage, I immediately realized that the biggest item category of DavisMicro.com or BrandsDragon.com should be cell phones. And later I found my impression didn't lie. There you can find any model of China cell phones, from Wi-Fi cell phones, TV cell phones, to GPS cell phones, Java cell phones, etc, you can find almost everything in the cell phone world. In addition to the huge catalog of cell phones and related products, there is also a long list of categories about all kinds of electronics, including music players, GPS devices, computer accessories, flash memory drives, Bluetooth headsets, baby monitors, security equipment, etc.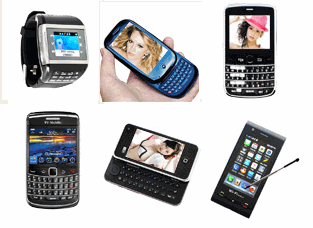 Quality & Price
Like Lightinthebox, DavisMicro or BrandsDragon verifies the quality of their items before they are stocked into the wholesale store's inventory and before they are sent out to worldwide buyers. To maintain a good reputation among global customers and to win a bigger market share, DavisMicro or BrandsDragon has been working very hard to assure their customers of the high quality of all items they offer. So when you order items from DavisMicro or BrandsDragon, you can be confident that you won't get any crap for your valued dollars.

Besides, as the online wholesaler cooperates with hundreds of China-based factories or manufacturers for the all supply of the items, they are able to provide their buyers with very low wholesale prices for each item they sell. Similar to some other wholesale websites, there if you place a bigger order, you will get a lower wholesale price. For first-time buyers, it is strongly encouraged to place a small order to test the water. If you are satisfied with the item quality or the store's service, you can make bigger orders next time.

Return Policies
Also, DavisMicro or BrandsDragon has a complete set of return policies as follows:
30-Day Money Back Warranty. If you are dissatisfied with the item received, whether because it doesn't work or simply because you don't like it, you can return it for a full or a partial refund.
3-Month Exchange Warranty. If the item fails to work normally within 3 months since the receipt of the item, you can send it back to DavisMicro for an exchange.
1-Year Repair Warranty. Within 1 year of the receipt of the item, if the item stops to work for its own reason, you can send it back to DavisMicro for free repair. If it is broken by yourself and some parts or components are needed for the repair, you may need to pay for the parts or components.
Payment & Shipping
For payment, DavisMicro or BrandsDragon accepts PayPal, Google Checkout, credit card, Money Gram, T/T, wire transfer, Western Union, etc. You can select any of the payment methods to pay for your order at your convenience.
For shipping, DavisMicro supports EMS, UPS, DHL, TNT, etc. Buyers can choose any of them for the delivery of their orders. Shipping fee includes shipping cost and handling fee. DavisMicro or BrandsDragonwill send you a tracking number after they dispatch you order, with which you can trace your order on the official website of the shipping carrier.
Customer Service
DavisMicro or BrandsDragon offers live chat service from 8:00 am to 5:00 pm (GMT +8), from Mon. to Sat. If you have any question to ask, whether about the products they provide, or about the services they offer, you can ask their customer representatives directly by clicking any of the live chat buttons at the left corner of their homepage. Before I drafted this article, I tried to contact them by the live chat service to confirm some details about their services. I remember I selected the customer service representative Lydia for my question, and she is really nice, patient and responsive to answer my questions. Thanks again, Lydia!
I personally believe that the DavisMicro's or BrandsDragon's live chat service are the best and the most easy-to-use among all China wholesale marketplaces including DHgate, Lightinthebox, Milanoo, etc. Just click the button and you will be able to start the chat immediately–you won't encounter any hassle as to be required to  fill in any extra information before you can talk with an operator.
Besides the live chat service, you can also call them at: 530-419-5986 (USA phone number) or (86)-755-26063125 (Shenzhen, china phone). The phone call service is available from 8 am to 6 pm, Mon. through Sat.
If both the live chat and the phone call services are unavailable, you can drop them a line about your question or concern at their customer service support email: Davismicro@gmail.com.
I believe I've done quite enough homework on DavisMicro, but still, if you find any information missing or incorrect about the China wholesale shopping website, free feel to leave your comment here or contact me.
Happy reading!
See details, visit DavisMicro.com or BrandsDragon.com >>
You might also want to read: BrandsDragon or DavisMicro?
Tag: Wholesale Cell Phone Accessories China
26 Responses to "DavisMicro Review: A China Wholesale Shopping Store for Cell Phones and Electronics"
Leave a Reply