I am a vintage enthusiast of styling and decorating. Earlier this month I have just shared a sale on vintage prom dresses offered by Chinese stores. When I see a vintage style thing, I just can't help but love it – if it is for sale and I can afford it, I always get it home without hesitation. Even my coffee table is a vintage one I purchased as a second-hand product from my neighbor for only $10. Truth be told, I am getting more and more obsessed with it instead of getting tired of it. So when I happen to see the vintage watches and vintage sunglasses on sale at Priceangels.com, my instinct tells me to share the deals, right now.
The promotional collection of vintage stuff is very small with only 16 items. If you are a person into vintage styling, I bet you will like it. The following retro round dial hollow alloy bracelet watch is my favorite among all: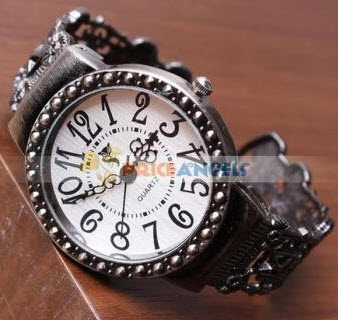 The strap of the vintage watch is shaped into a stylish bangle. This watch will be a perfect accessory for cool outfits, especially if you want to create a smart or an elegant look. It is available at $5.12 only after 8% off. The sale is ending May 10, 2013. Anyway, even the full price is very attractive, isn't it? If you miss the sale but really like it, just go for it. The small discount won't help you save that much so you can just completely ignore it and pay a little more for what you love. It is totally worth, trust me.
The skull shape dial leather strap alloy watch as shown below also looks cool. Now leather bracelets are leading the trend on the global fashion arena and this leather strap watch can be a amazing enhancer for a stylish outfit.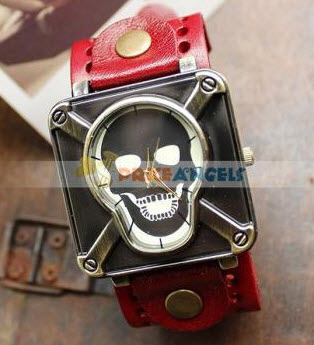 This style of vintage watch is a little more expensive, at $7.12 also after 8% off. It perfectly exemplifies the great merging of a watch and a fashion accessory though most buyers don't really need a watch to tell the time.
For more vintage watches or vintage sunglasses on sale at Priceangels.com, please click here.
Besides the deals, the site has lots more vintage fashion accessories to choose from. Just take a look at a few lovely ones handpicked from their vintage collection: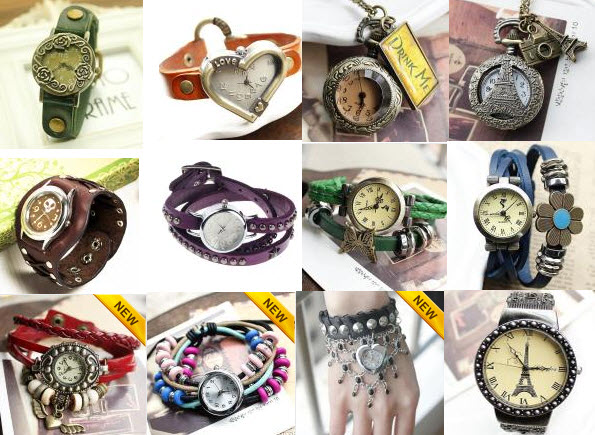 See all vintage watches available at Priceangels.com >>
As long as you are a vintage fashionista, you are gonna love them so much just I do. Both men and women can easily find a vintage watch of dream there at a price that everyone can afford. Actually Priceangels.com (read the review) is also a China wholesale shopping site so their prices are always very competitive. If you order in larger quantities, you will get even lower prices. Seriously, the beautiful vintage watches offered by them can be a good revenue earner for re-sellers. If you are running a store that sells interesting fashion accessories, just give them a try.
By the way, if you fail to catch any deal from the vintage watches sale mentioned above, you can still take advantage of their coupon codes for more savings. Click here to see the latest Priceangels coupon codes.
Leave a Reply