As always, when I am asked to recommend some reliable Chinese online suppliers of a certain product or category, I would tell you those I personally have more confidence in. At least I are pretty sure they are doing serious business and have already built a rather big customer base around the world. However, if your definition for a "legitimate site" is that it has few complaints, I am afraid I can't count even one for you. As for reliable Chinese suppliers of wigs and hair extensions, I meant the same.
Again, I am writing this post as a response to an email from a reader of my blog. Actually I have talked about a number of topics about made-in-China hair wigs, hair extensions or hair wigs here at my site. You can use the search box at the right top of my site to find related posts. In particular, one of the posts has a good ranking in the Google search organic results by the long term "hair wigs for women online shopping from China" sometimes. Titled 'Hair Wig Review: Update Your Look with Stylish but Cheap Hair Wigs', the post introduces all key information within my knowledge about wigs or hair extensions offered by Chinese manufacturers or suppliers.
It seems such hair styling products are now a hot line on the global wholesale or retail market. I notice that more and more Chinese wholesale shopping sites start to usher the new category into their major field – even some electronic stores are doing so too. Tmart.com is a good example then. The site is mainly selling cool electronic gadgets, such as tablet PCs, cell phones, accessories for iPhone, iPad or other world renowned mobile devices, creative lifestyle gadgets, etc. I was a little surprised when I saw that they are promoting a big collection of hair wig-related products, which is sorted into three subcategories: fashion wigs, cosplay wigs and hair extensions & snood. Generally, I don't think it a good idea for a specialized shopping site to extend their product line to unrelated domain. For this reason, I won't put Tmart.com at the top of my recommendation list though I would encourage you to take a look at their listings since their prices can be a big appeal to you. Here are some examples for your reference: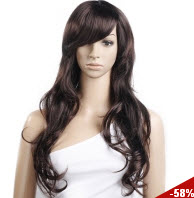 23.6″ Natural Side Bang Coffee Brown Fluffy Silk Long Turnup Hair Wig, $16.85 with free shipping worldwide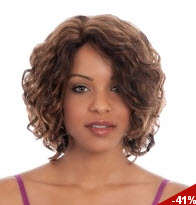 12.99″ Kanekalon Popular Europe and America Short Curl Brown Hair Wig, $18.76 with free shipping worldwide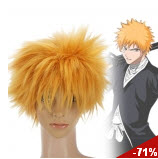 Bleach Kurosaki Ichigo Short Straight Cosplay Wig in Golden, $11.11 with free shipping worldwide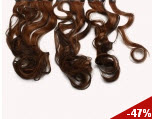 23.6″ Coffee Brown Curly Hair Extensions with Clips, $8.98 with free shipping worldwide
Note that the prices showcased above are for promotions only. They may be changed to the original prices anytime. Also, most of the wigs or hair extensions will be shipped from their US warehouse or other international warehouses and it can be very fast for an order to reach your doorstep.
In addition to Tmart.com, there are lots of other China-based sites to get real deals on wigs, hair extensions or hair accessories for women. I've introduced some good ones in my old posts. Below is my personal ranking for the suppliers from the top: