The Oscar 2013 red carpet fashion event has gone for gone for weeks, but the passion for prowling the online shopping sites for an Oscar 2013 fashion inspired dress of desire is just heating up. As a tradition, people are discussing about the best dresses and the worst dresses Oscar stars and many sites have listed their own rankings.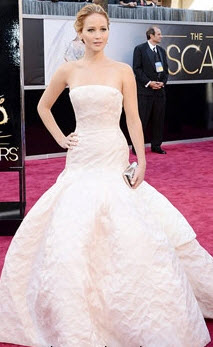 While most common people can't afford the super expensive Oscar red carpet designer dresses, we can still satisfy our desire of getting a similar style at an easily affordable price. Chinese clothing manufacturers or China-based online fashion stores are a good choice to shop for Oscar 2013 red carpet fashion inspired dresses. This year, I would recommend Milanoo.com (see the detailed review of the Chinese site) for a good reason.
First of all, the site is an absolutely famous Chinese online shopping site of fashion and accessories. Although they have negative or bad reviews all the year around, they are a 100% legitimate company with operation centre based in Chengdu, Sichuan Province. Their credibility is quite tested.
Second, Milanoo is particularly famous for offering low priced special occasion dresses including all kinds of red carpet inspired dresses. Having years' experience in cooperating with a good number of Chinese apparel manufacturers, they have developed some stable cooperative relationship with better suppliers and thus their quality is relatively dependable.
Third, their collection of the 85th Oscar red carpet styled gowns is the closest to my own taste. Be honest, so far I don't see any famous site has exactly the same best dressed in the 85th Oscar Academy Awards as mine. Anyway, Milanoo.com have altogether included 13 styles into the latest Oscar fashion selection and I like all of them except one or two. I am exceptionally glad to see that they have the elegant pearl pink halter dress donned by Anne Hathaway (see image on the right), which I like very much but Times.com puts it into the 'worst dressed'.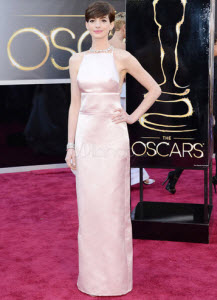 As always, I don't like to gossip about the worst dressed though. I believe that every style has its fans and fits the right ladies. However, this Oscar, the red gown worn by Jennifer Aniston really makes me sick – I have to confess that I don't like it and don't think it fit the star of my favorite either. This dress is also listed as one of the worst dress by Times.com.
By the way, here is my personal ranking of the top 10 best dressed in the Oscar 2013 red carpet runway:
Top 1: Ivory Satin Strapless Jennifer Lawrence Oscar 2013 Inspired Ball Gown Dress (at $194.99 on Milanoo.com)
Top 2: Elegant Pearl Pink Halter Anne Hathaway Oscar 2013 Inspired Dress (at $106.99 on Milanoo.com)
Top 3: Sheath Silver Sequin Naomi Watts Oscar 2013 Inspired Dress (at $141.99 on Milanoo.com)
Top 4: White Satin Applique Zoe Saldana Oscar 2013 Inspired Dress (at $162.99 on Milanoo.com)
Top 5: Shiny Golden Renee Zellweger Oscar 2013 Inspired Dress (at $141.99 on Milanoo.com)
Top 6: Strapless Gray Net Amy Adams Oscar 2013 Inspired Dress (at $353.99 on Milanoo.com)
Top 7: Noble White Satin Beading Mermaid Trumpet Charlize Theron Oscar 2013 Inspired Dress (at $ 134.99 on Milanoo.com)
Top 8: Sexy Golden Sequined Side Split Naomie Harris Oscar 2013 Inspired Dress (at $159.99 on Milanoo.com)
Top 9: Graceful Plus-size White V-neck Beading Satin Oscar 2013 Inspired Dress (at $127.79 on Milanoo.com)
Top 10: Elegant Sheath Royal Blue Strapless Taffeta Oscar 2013 Inspired Dress (at$123.99 on Milanoo.com)
Note that the above indicated prices offered by Milanoo.com are available for a limited time only. They may vary after the promotion ends.
Click here to see the promotional page of Oscar 2013 red carpet inspired dresses at Milanoo.com.