Now if you ask my opinion about where you can buy cheap and better quality hair wigs for women, I would recommend Lightinthebox.com, Milanoo.com, Dinodirect.com and Aliexpress.com. The first three are premium online suppliers which have established a big name on the global market while the last one is a well-known wholesale trading site for small and medium-sized businesses. Also, the first two are better places to shop for fashionable hair wigs while the last two are better for purchasing hair pieces or hair extensions from women in all colors or from various continents.
In one of my old posts published in the year 2010 Hair Wig Review: Update Your Look with Stylish but Cheap Hair Wigs, I illustrated in detail about the comparisons between human hair wigs and synthetic hair wigs, and between costume wigs and fashion wigs. Also, topics including prices, usage, quality and caring of women's hair wigs were covered in that post too. In particular, the hair wigs offered by Milanoo.com and Lightinthebox.com are introduced in detail. Over the past years, I notice that Lightinthebox.com offer deals on faux hair wigs or human hair wigs most frequently among the four sites. Currently, they are promoting a collection of quality made wigs for females with up to 75% off.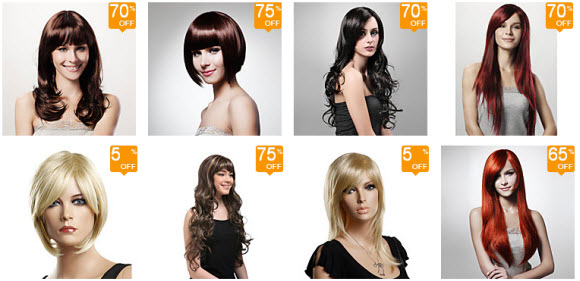 Discounts start from 5% off for this promotion and are as high as 75% off on select items. Besides, free shipping is available on some of the products included in the sale. A variety of styles in hair wigs for girls or women are covered, including curly, straight, bob, long, short, medium, shoulder-length, extra long, side-bang, full-bang and more. The on-sale hair wigs are either made of high quality synthetic material imported from Japan or of 100% real human hair, coming in various colors such as brown, black, blonde, golden, red, yellow, chocolate, auburn and more. Most of them are capless and all are easy to wear. Whether you want to purchase a wig for an elegant look or an over-the-top look, the selection may have the one of your interest. They claim the hair wigs are of high quality standards and I personally believe they are telling the truth as Lightinthebox.com is a responsible shopping site based on my knowledge.
As for the pricing, the after-discount prices are quite attractive though probably not the lowest on the Chinese foreign trade market. I myself am not an expert in hair wigs for women and thus find it hard to compare prices for wigs of exactly the same specifications including materials and length. Anyway, I did make a rough comparison between a few products there and those of close specifications offered by other sites. Comparatively, their hair wigs look much better in terms of shapes or fineness – I don't know whether it is because they have a professional studio to shoot the finished products and are able to have them displayed in more attractive looks.
My impression: I would go for their wigs even if they are slightly higher in pricing. When I found the overwhelmingly good ratings for some of the discounted hair wigs there, I realize that I am not alone. Anyway, sometimes I feel myself being way too obsessed with Lightinthebox.com and too confident in their products especially when it comes to quality standards of their made-in-China products. So I would suggest you make your own shopping decision based on more research instead of solely trusting in my personal preference.
Images courtesy of Lightinthebox.com
Leave a Reply