In my personal list, Lightinthebox.com and Milanoo.com are the best Chinese sites to shop for retail or wholesale prom dresses offered at reasonable prices. Now Milanoo.com have launched their new promotion of prom dresses for 2013. If you are looking for gorgeous dresses that can make you stand out in the proms but won't embarrass your wallet, the deals are definitely worth taking a look.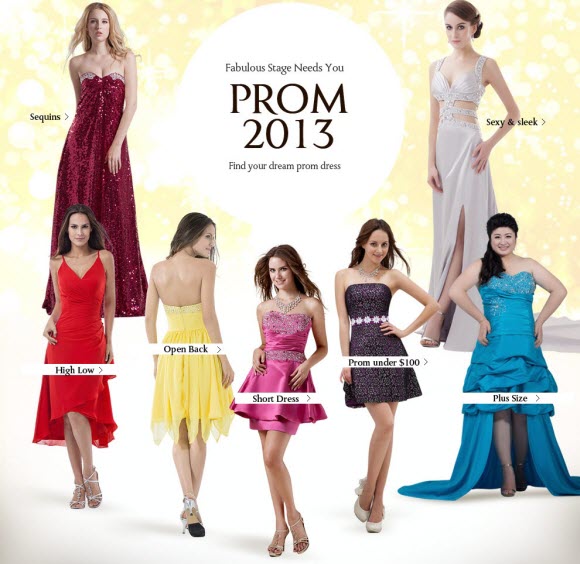 One great attraction of Milanoo to me is: every time when I browse their new arrivals in fashion stuff, I am so fascinated by the beautiful styles that I find it hard to leave their sites for other online destinations. Look at the homepage of their sale for 2013 prom dresses! Are you instantly attracted by the stylish dresses? Then, click on the sub-categories listed in the image. I am sure you will be ever more astonished by the amazing dresses and their prices!
I always say Milanoo.com is a one-stop shop for prom dresses (read my old post about Milanoo prom dresses here) and I still insist that they are worth the name now. This promotion in particular includes high-low prom dresses, open-back prom dresses, short prom dresses, plus size prom dresses, sequins prom dresses and sexy and sleek prom dresses. No matter what your preferred style is, you will have plenty of choices to choose from there. Most of the prom dresses on sale are priced at between $100 and $150. Also, you can see a category containing prom dresses under $100 in the promotion too.
The fashion store often release coupon codes for savings in various forms. The free shipping coupon code "PASSIONFS", in particular, is often available for orders of $99 or more. Anytime you decide to purchase something there, don't forget to search out if any useful coupon codes can be used to reduce your cost first. My site updates the Milanoo Coupon Code page regularly and as new coupon codes from the site are announced. Just take a look now!
Image courtesy of Milanoo.com
Leave a Reply