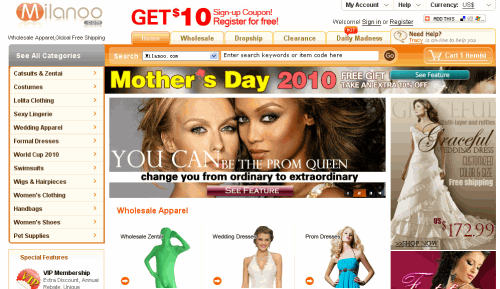 Founded in 2008, as a China wholesale shopping website, Milanoo.com is a new star in the international wholesale arena. With its headquarter being located in Hong Kong, Milanoo has its operation and logistics base in Chengdu, the capital of Sichuan Province. Compared with other famous China wholesale marketplaces like AliExpress.com or Lightinthebox.com, Milanoo runs a business model closer to Lightinthebox and integrates both B2B and B2C businesses targeting global resellers as well as end consumers.

Item Catalog
The name Milanoo was derived from the name of the world renowned city Milan, Italy, the 'fashion capital'. And as the name indicates, the China wholesale shopping website focuses on providing fashion stuff to its buyers from all over the world. Milanoo has a quite extensive catalog for fashion stuff, mainly including Catsuits & Zentai, Costumes, Lolita Clothing, Sexy Lingerie, Wedding Apparel, Formal Dresses, Swimsuits, Wigs & Hairpieces, Handbags, Women's Shoes, etc.
Free Shipping
'Permanent Sitewide Free Shipping' is one of the biggest features of Milanoo. The online China wholesale shopping marketplace promised that all items offered there are with free shipping and they will never change this policy to their customers. So when you shop on Milanoo.com, you don't have to worry about the high shipping cost for international orders at all. The price you see on the item description page is the final cost you will have to pay for the order you place, no shipping cost or any extra cost will be charged. (Update Note: Milanoo no longer adopts permanent sitewide free shipping policy since late 2010, but quite frequently it does launch free shipping promotion on select items.)
Minimum Order Quantity (MOQ)
As mentioned above, Milanoo offers free shipping to every item available on their website. As a result, a US$ 30 minimum order quantity is required. I personally believe this is fair enough. Anyway, the China wholesale shopping website has to bear a lot of costs and risk by giving free shipping service to each single order to any corner of the world and US$ 30 is really not a big deal, right?
Payment Options
Currently, Milanoo accepts payment by PayPal, Wire Transfer and Western Union. And to provide more payment options for their buyers, they are now developing the credit card payment system.
Shipping Methods
Milanoo ships out orders from their warehouses to their clients' destinations across the world by standard international shipping for free. If a buyer wants to get his/her order via DHL, EMS, TNT or UPS, he/she may be required to cover the extra shipping cost.
The above information is based on my research on the China wholesale shopping company Milanoo. However, my knowledge is after all limited, if you happen to know something more  or different about the wholesale company and would like to share with my readers and me, please feel free to leave your comment here or contact me. Of course, I won't stop my interest in Milanoo right here and I will continue digging about the online fashion item shopping website—if you are also interested in learning more about Milanoo, come back regularly to check my updates 🙂
Happy reading!
See details, visit Milanoo.com >>
Image courtesy of Milanoo
13 Responses to "Milanoo Review: A China Wholesale Shopping Website for Fashion Stuff"
Leave a Reply