The other day an Indian reader of my site e-mailed me, asking what my opinions are about the toys made in China. He said toys from China are reported as containing toxic material for children in his country. For this reason he is hesitant to get these toys to the Indian market. In case other readers may also be interested in purchasing toys from the Chinese wholesale market, I decided to create this post for your reference.
Before you go ahead, keep in mind that my shadow understanding about the made-in-China toys is based on my own experience and research only. You are encouraged to do more research yourself in order to make a smart investment decision.
Basics about Toys for Sale in the Chinese Markets
First of all, as a Chinese, I can tell you that it is true there are some crappy toys for children which are made of unsafe material or of poor quality in the Chinese domestic market. These cheap toys are available at small stores or offered by moving street peddlers. At the same time, consumers can also buy them from online stores, especially from sellers at Taobao.com (the Chinese eBay). This is pathetic as the Chinese governments do not take strict measurements to ban such poorly made toys, which are definitely a huge threat to the health of the children.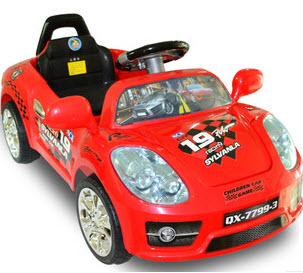 However, toys for sale at bigger stores such as supermarkets or brand stores are generally made of safe material, covered with authoritative quality certifications, e.g. the 3C Certification (China Compulsory Certification or CCC). If you see a toy labeled with a 3C Certification, you can be confident that its material does not have any negative impact on the health or safety of the kids. Although toys meeting national quality standards are usually more expensive than those not, they are not necessarily beyond common people's consumption capacities. I myself have bought several good quality small toy cars or trucks with 3C Certification for my little boy, each priced at around ¥8 RMB (a little more than $1 USD). Also, I purchased a four wheel electric driving car (see image on the right) with a remote control function for my son at ¥300 RMB only – the high-end ones priced at around ¥1000 RMB. The car is very fun. My son can drive it on the road by stepping on the switch while we adults can control it with the remote controller. It has a 3C certificate, by the way.
As for my personal experience, for toys of smaller shapes, especially those babies love to play biting, I always choose to purchase higher quality ones in order to protect my son. Most of them are priced quite reasonably and we Chinese middle class people don't think they are very expensive, especially compared to toys imported from Western countries. So my own rating for the made-in-China quality toys is 4 out of 5 stars in terms of both quality standards and pricing. Yes, I am quite satisfied so far.
Nevertheless, let's face the reality: not all Chinese families can afford high quality toys. In China, the number of individual farmers, workers or other people with lower incomes is very big (no offence, I myself was born to a farmer family). I notice that it is hard to find standard quality toys at stores in the countryside, not to mention high quality toys. When I took my son to visit my parents, relatives or friends who live in rural areas, I bought several toys for him and found that they not only have a strange smell but also are very fragile. They either fall apart or are broken after my boy played with them for several times only. By the way, they are offered at extremely low prices though. I guess that's the very reason why such toys fail to be completely prohibited – they still have a huge market.
Speaking of the market demands, I have to confess that even though as an educated person I know well about the harmful impacts of toys made of inferior material, sometimes I still choose to buy such toys out of economic consideration. Generally, for bigger toys which are not likely to be used as a biting tool by my son, I would go for the lower quality ones – they are much cheaper than the higher quality ones. The toys may not carry a 3C certificate but look quite OK from the appearance as well as the performance. Of course, I would never go for those of overly bad quality, e.g. having a stimulating smell.
Suggestions for Global Toy Re-sellers
If you want to stock up on toys from China, you are encouraged to:
1) choose toys made of safe material or of higher quality;
2) go for reputable brands. My recommendations: 丹妮奇特/DanNiQiTe、木玩世家/MWSJ、奥迪双钻/AULDEY、澳贝/AUBY、纽万/NEWONE、盈泰/Intime、星辉/rastar、LALABABY、环奇/HuanQi.
3) trade with trusted online stores or sellers; My top recommendations (note: the following links will direct you to the Toys and Hobbies pages of the sites): Dinodirect.com, Focalprice.com, Ahappydeal.com, Priceangels.com, Lightake.com, Dealextreme.com, Tmart.com and Bestofferbuy.com. Aliexpress.com is famous and carries an amazingly wide range of different toys, but like its sister site Taobao.com which targets the Chinese domestic market, it may contain some fakes or poorly made quality products.
4) ask for quality assurance details before placing an order, e.g. does the toy have a 3C certificate, does it have any smell, is it covered with a quality warranty, etc.
5) confirm on the return, exchange and refund polices in case you are not satisfied with goods you receive;
6) use the Chinese online retail leading site Taobao.com or Tmall.com to compare prices or to look for top brands (both of which like Aliexpress.com belong to Alibaba Group). Comparatively, Taobao may have some scammers who sell fakes there while Tmall.com serves branded stores only. So the information found from Tmall.com should be more trustworthy. When you input the keyword "玩具" (Chinese word for "toys") in the search box at Tmall.com, you will see a listing of toys displayed for your browsing, at top of which is a list of brand names (both Chinese brands or international brands). Don't worry about the language problem, just use the Google Translate tool and you will then find your way out.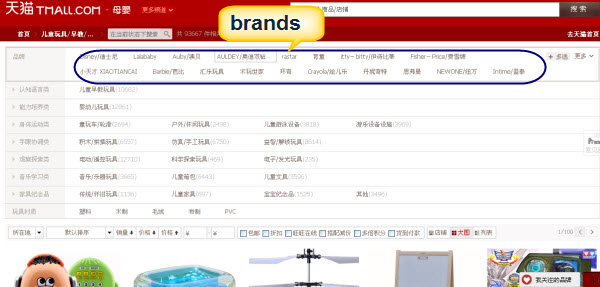 To find the most matching results, you can use a more specified keyword like "遥控车" (RC cars) to narrow down your search. Again, the Google Translate would help.
Just for your reference: although the prices for the toys shown at Tmall.com or Taobao.com are for retail only, the reasonable prices for international wholesale buyers can be even higher due to expensive international shipping cost.
P.S. for more detailed introduction to Taobao.com and Tmall.com, please read here: http://www.danviews.com/chinese-singles-day-11-november-the-biggest-sale-day-in-china/
One Response to "Made-in-China Toys: Are They Worth A Try?"
bird spikes metal Says:
January 26th, 2013 at 12:19 am

It's wonderful that you are getting thoughts from this paragraph as well as from our discussion made at this time.
Leave a Reply