Like most Chinese international online stores, Milanoo.com is always busy launching promotions during the Christmas shopping season, using deep discounts to attract customers and at the same time to boost their turnover – of course, they are still making profits! The other day I posted a list of Milanoo coupon codes for December 2012, by taking advantage of which you can save some money when shopping there. Below I am going to share one more recently released discount code for the company, which applies to women's boots and booties (including flat booties, high heel booties, wedge booties, riding boots, chunky heel boots, snow boots and more) only:
Coupon code: BOOTS
Get $5 Off Orders of Over $50
Get $15 Off Orders of Over $100
Get $30 Off Orders of Over $150
Expiry Date: Dec. 17, 2012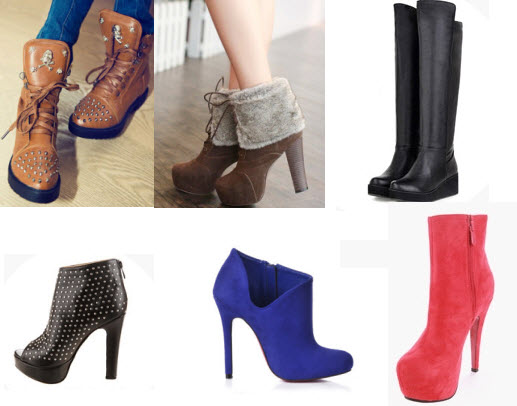 This discount range is even wider than any other one listed in the previous post mentioned above. Note that you can use one coupon only for the same order so you are encouraged to choose the most money-saving one.
Speaking of women's boots and booties available at Milanoo.com, I have to mention that fashion products are the major field of the online shopping website and low pricing is their very attraction that separates them from their competing sites. The booties and boots on sale for example, are priced at as low as $21.99 before discount.
From the customer reviews I found on the Internet, it seems their quality is a controversial topic as some say it is good while some others are not satisfied. The most common opinion is: what they purchased from Milanoo.com is not high quality, but worth the pricing. I believe this makes sense especially seeing that most made-in-China products are not given a thumb-up in terms of quality standards but are generally raved for the unbeatable prices.
As for their customer service, well, I know they are extremely friendly and helpful before you order – I've tested contacting their service staff for several times and felt really good. Nevertheless, I have no idea if they are the same good for after-sales issues. Similar to reviews of their quality, comments relating to their service standards are quite different from each other. Happy customers speak well of them while unhappy customers spread bad word about the site. Almost every Chinese store has the same problem. The only difference lies in the percentage of good reviews v.s. that of bad reviews.
Anyway, one thing is for true: Milanoo.com is a legally registered company headquartered in Hong Kong with major offices located in Chengdu, Sichuan and warehouses in a number of cities around the mainland China.
All in all, based on my personal viewpoint, it is not a good choice to shop for high-end or designer boots and booties at Milanoo.com but the site is worth giving a try if you are looking for comfortable and trendy shoes for winter at low prices. I personally like shoes made in real leather very much and from my own shopping experience, genuine leader shoes for women or men are not expensive in China. For this reason, when I see Milanoo labels a pair of boots or booties with "genuine leather" along with a very low price, I am not surprised at all.
Leave a Reply