The 2013 summer graduation season is coming soon. You may have noticed that many sales for the event have come out on the internet. While some fashion stores are offering deals on cute and cheap 2013 graduation dresses that come in the latest styles or classic styles, some others are promoting other cool stuff that fit young people. Focalprice.com, the well-known Chinese electronic shopping site, for instance, is hosting a graduation sale on a variety of stylish gadgets.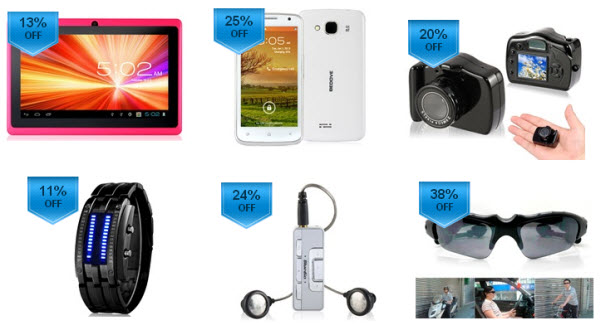 The Focalprice graduation sale started on May 1 and will last till May 21, 2013. Every product selected for the promotion is labeled with a clear discount rate, from 5% off to 38% off. The prices you see there are already reduced by the discount so if you want to take it, just put it into your shopping cart and then check out. Free shipping is honored for any promotional product as long as you choose the standard shipping option, which will take 5-25 business days for the order to reach your doorstep. If you want a faster delivery, you can choose EMS (3-6 business days), DHL or UPS (2-3 business days). Normally, an order will be dispatched within 3 days after you make the payment. View all graduation deals at Focalprice.com >>
In the recent years we see a robust rise of Focalprice.com in the Chinese cross-border e-commerce industry. Now the Shenzhen-based company is ranked as one of the best Chinese shopping site of electronic gadgets and accessories. In addition to English, the site can also be used in Russian, Spanish, German, Portuguese, Turkish and Polish. Like most far-sighted Chinese e-commerce sites, Focalprice.com have realized that it is time to expand their market range and started to explore more markets other than the US market.
With many years' experience in selling electronic gadgets to the world, Focalprice.com stands out by competitive prices. Besides, the products they offer tend to have a better market potential as they are more professional and veteran in this field and are able to spot the good stuff. For electronic resellers who are not sure about which products are good to make profits with, the site may get you inspired. For more information about Focalprice.com, please read here.
Graduation season is not a huge shopping season like Christmas but we have to admit that it is a good chance for merchants to boost their revenues. During the graduation season, parents may want to prepare a special gift for their son or daughter to celebrate his or her graduation; classmates may look for a lovely product to gift the classmates they cherish so much before leaving the campus as a souvenir of their college life, and even the graduates themselves may buy something they like as a reward for the efforts they've made for their college study life. See? The demands for the graduation event can be quite huge.
Leave a Reply