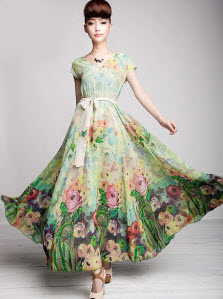 In case some of you are particularly interested in floral printed dresses or any other type of clothes embellished by a floral flavor, I decided to do the compiling work for discounted floral printed dresses that are supposed to be popular this summer. Besides to the great sources to get amazing floral style dresses, I will also introduce how to get the best deals from the sites so that you will get the dresses you desire at a discount you love.
First of all, let me tell you which Chinese international shopping sites are worth checking out when it comes to floral summer dresses, shorts, skirts or other fashion stuff for women. As always, Lightinthebox.com, Milanoo.com, Dinodirect.com and Aliexpress.com are ranked the top choices in my personal list for any made-in-China fashion products. As for dresses that come in floral prints, Lightinthebox and Milanoo are definitely the best of the best.
Below are the posts introducing the details about the floral dresses for summer 2013 available at the shopping sites. Or, you can just go directly to the stores for a quick look at. That's usually the way how I do. When I am told some reliable sites where I can buy stuff I want, I always go straight to check out the styles and prices instead of further researching on the credibility of the site. This is, definitely, not a good habit though.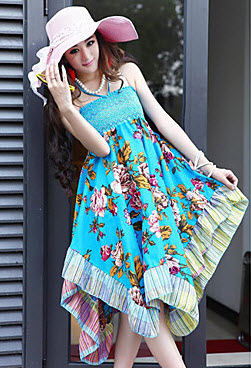 Just to remind you: while most of the floral dresses for sale at any of the stores are in stock and are tailored in standard sizes which you can check up in the product descriptions, some may be available for customization only. That way you will be asked to provide the detailed measurements of yours and wait longer for the dress to be processed and shipped.
My advice: if quality and fabrics are your top priority when looking for made-in-China floral dresses for summer 2013, Lightinthebox.com, Milanoo.com and Dinodirect.com and the better choices; if you are cool with a modest quality standard of the dresses but are concerned badly with pricing, then Aliexpress.com is better worth considering. Either option, you should keep in mind that generally pricing equals to the same level quality standards and never expect too much on extremely low priced dresses to be high quality made. I myself would like to spend the same money to get more styles so that I can have more choices when dressing myself up and I am Okay if the quality is average. You know, I probably won't wear it again next summer. Anyway, you can always use the sites to compare prices for the same or similar styles for best deals.
Leave a Reply