If you visit my blogging site regularly, you may have noticed that I am posting deals on summer fashion and accessories quite frequently here. All of the deals are offered by Chinese sites, of course. You know, I focus on discussing China-based online retail stores or wholesale stores only, though I occasionally do share something about US or European stores. As I mentioned in an early article, Dinodirect.com has released a promotional collection of summer 2013 wardrobe statements for men and women. This post will focus on the "colorful" beach apparel and accessories part.
The "Beaches" subcategory of the Dinodirect 2013 summer first-round sale includes women's beach dresses, hats, shoes and swimsuits with up to 23% off plus free shipping. As a tradition, the deals will last for a limited time only though so far I haven't made clear about the exact deadline. Anyway, if you see any deal of your interest there and are satisfied with the after-discount price for it, just take it as soon as possible. Based on my research, although they issue Dinodirect coupon codes very frequently but the discount scope is generally no more than 10% off and it is order value-based.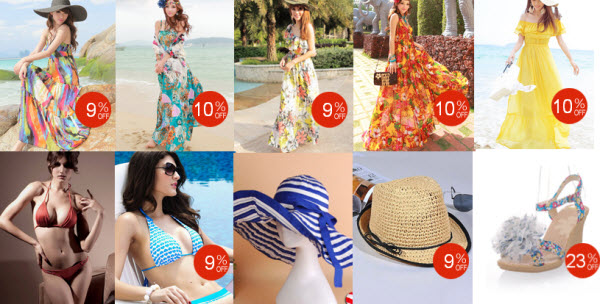 For the current beach clothing and accessories sale, you don't have to reach any order value threshold in order to enjoy the discount. The price has already been reduced by the discount displayed on the product page so you only need to add it to the shopping cart and then check it out. The product you order will be shipped to your doorstep in 15-25 business days if you choose the free shipping service. If you want a quicker delivery, you can choose an expedited shipping method like EMS, USA Express, FedEx, DHL or DHL by paying a shipping fee as displayed on the product page. Then you will get the package in 3-12 business days depending on your destination as well as the specific shipping method you choose.
In a previous post I have shared the best online China stores to buy cheap wholesale maxi dresses in bohemian styles and introduced Dinodirec.tom among the other better rated sites. Now the good news is: some bohemian beach dresses at Dinodirect.com are on sale with a high discount for the promotion. Besides the bohemian style dresses, there are a few other style beach dresses to choose from. The major fabric used for the beach dresses is chiffon while the specific styles or cuts have different choices. From v-neck dresses, dew shoulder dresses, one-shoulder dresses, round-neck strap dresses to exposed shoulder dresses, you can easily find a dress that meets your taste or preference. All discounted beach dresses there are long to the feet and are thus called maxi dresses. Coming in refreshing colors and designs, they look really fabulous and will definitely make your beach trip amazing.
What is also particularly worth mentioning is the on-sale swimwear for the collection. The included styles are limited in quantity but each and every one deserves taking home. I love them so so much! The following two are my favorites among the select styles. How about yours?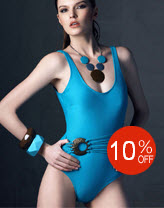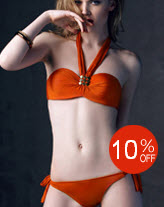 Click here to view more discounted swimsuits for women in the Dinodirect summer 2013 sale collection
Leave a Reply