China is no doubt the biggest manufacturing hub of all kinds of  surveillance IP cameras. Every year the country exports surveillance cameras that fit homes, offices, cars or other occasions to the world through online transactions or traditional trading. In recent years, as e-commerce develops and it is getting easier to shop for products we need online from foreign countries, more and more re-sellers and end consumers choose to purchase made-in-China surveillance cameras from Chinese wholesale websites.
Now even if you are a store owner looking for cheap IP surveillance cameras to earn high margins, you don't have to invest big money for a single order by shopping with a wholesale store in bulk. Wholesale in small quantities has become the dominating trend in the arena of Chinese wholesale foreign trade. Given the more flexible trading model as well as the highly competitive prices, people have good reasons to use Chinese sites to buy surveillance cameras either for personal needs or for resell business.
Generally, you can get the information like which are the best selling Internet protocol surveillance cameras from the ratings or sales volumes of the surveillance cameras at reliable Chinese sties. Though both comprehensive online shopping malls like Aliexpress.com also offers a wide range of surveillance cameras, I personally would tend to recommend you to use sites which focus more on electronic gadgets, such as Lightinthebox.com or Dinodirect.com. Of course, for such products, company credibility is the first thing to consider otherwise you may encounter lots of pre-sales hassles and get no way to have them reasonably solved.
To find out the best surveillance IP cameras 2013 for sale at China-based wholesale shopping sites, you can do research yourself as much as you can. Based on my research, most IP cameras available at China shopping sites are designed in the form of webcams. That is, an IP camera can also be used as a webcam but not vice versa. Below are my own findings regarding this topic and you can take them for reference if you are interested in.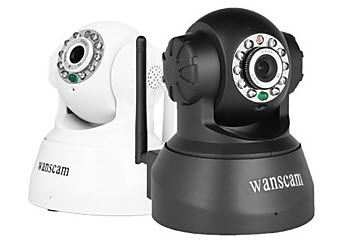 Wanscam Wireless IP Surveillance Camera with Angle Control at Lightinthebox.com (read detailed review of the site)
Price: $46.99
Processing time: 24 hours
Shipping time: 3-5 business days for expedite shipping and 6-8 business days for standard shipping
Feedback: 4 out of 5 stars rated by over 2,000 real customers
Spotlights:
Night vision
Wi-Fi
Motion detection
Audio
Free DDNS bounded
Supports 4 simultaneous remote logins
Supports there-level account password
Can be connected by smartphone
Rotation angle Pan: 355° / Tilt: 90°
As one of the most famous Chinese international shopping sites, Lightinthebox.com is highly trusted by global buyers and they are well known for offering superior quality products at reasonable prices. Besides the above mentioned surveillance camera that fit perfect for domestic or office surveillance, they also carry a wide range of other amazing IP surveillance devices to ensure the safety of our homes, offices or cars. Prices may vary quite significantly based on specifications and features.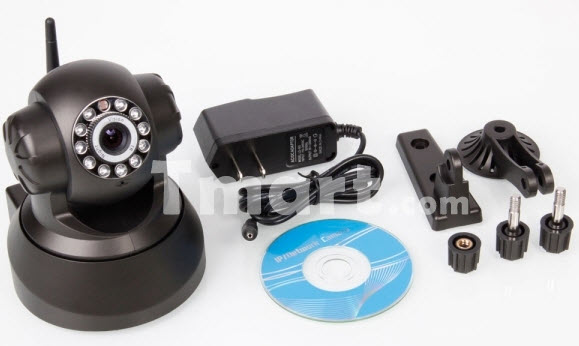 Wireless WiFi Two-way Audio IP Security Camera at Tmart.com (read detailed review of the site)
Price: $48.99 with frees shipping
Processing time: 24 hours
Shipping time: 1-7 business days for expedite shipping and 3-15 business days for standard shipping (shipped from US warehouse)
Feedback: 5 out of 5 stars rated by 22 real customers
Spotlights:
Simple to set up
User friendly interface
Built-in microphone
Support for dynamic IP with the only one global free domain name
Allow remote viewing video and record from any internet connection
Supports two-way voice and two-way audio monitoring
Can support 10 people online viewing at the same time
Can be monitored by smartphone
Multi-level users access and management with password protection load
This IP security monitoring camera looks very similar by apperance to the one offered by Lightinthebox.com as introduced above. Anyway, I can not find any branding information of this one though it looks quite good in terms of quality. Besides, the specifications of the two models are different.
See more IP cameras at Tmart.com >>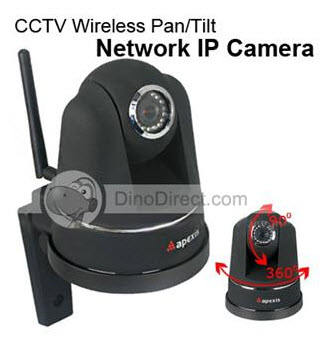 Apexis™ CCTV Wireless High Definition Security IP Camera at Dinodirect.com (read detailed review of the site)
Price: $67.99 with frees shipping
Processing time: 24 hours
Shipping time: 3-14 business days for expedite shipping and 15-25 business days for standard shipping
Feedback: 4 out of 5 stars rated by 53 real customers
Spotlights:
Has high-sensitivity 1/4inch CMOS sensor
Optimized MJPEG video compression for transmission
Multi-level user management and passwords
Supports dynamic IP(DDNS), UPNP LAN and Internet(ADSL, Cable Modem).
Alarm sensor input/output: the detection sensor sends an alarm and records by itself when there is a file or an accident
Lens: 6mm
Viewing angle: 60 degrees
As always, Dinodirect.com only sells branded products. This IP camera is labeled with the registered trademark Apexis so buyers don't have to worry about buying a counterfeit. With practical features, the security surveillance camera can be used to monitor your kids, your home or your office conveniently and efficiently. Even if you are travelling in a place far away from your home, you can see clearly what is happening at your home through the remote viewing function of the device at anytime.
See more IP cameras at Dinodirect.com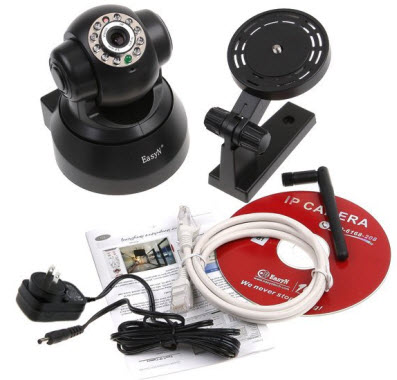 EasyN Wireless Webcam IP Camera at Aliexpress.com (read detailed review of the site)
Price: $54.83 with frees shipping
Processing time: 3 days
Shipping time: 15-26 days
Feedback: 4.8 out of 5 stars rated by 1,102 real customers
Spotlights:
9-channel browser view
5 languages to choose from
64-channel software
Auto-search
Remote control
Video remote playback
Support DDNS, built-in web server with self-developed domain name for free
Support three-level account
Two way audio
Support cell phone view
Support unlimited user view with P2P tech
Motion detection setting
Support Email photo, FTP photo, FTP record, message etc.
With 98% positive feedback, this webcam style IP camera is one of the best rated home security or home automation cameras at Aliexpress.com. You can control the camera by using your PC, iPad, iPhone or iPod Touch from any remote distance. After you leave home, you don't have to worry that someone breaks into your house or that you forget to turn off the lights. Also, when your little baby is sleeping in another room, you can use the IP camera to monitor what is happening there anytime so you no longer need to worry about his or her safety.
See more IP cameras at Aliexpress.com >>
Leave a Reply