If you are looking for a case that is not just to protect your iPhone 5, iPhone 5C or iPhone 5S from scratches but also to showcase you unique taste, a novelty iPhone 5 case is a must-have. Among the countless China-bases online international stores, you can find such products easily and more importantly, all of the cases are for sale at can't be lower supplier prices. You know, the majority of mobile gadget cases available at your local stores come from China, the world's biggest manufacturing hub of electronics and accessories.
Below I'd like to introduce the best creatively looking iPhone 5 protective cases offered by trusted Chinese stores. I handpicked the styles simply based on my personal taste. So you can just take them for reference and check out the whole catalogs of iPhone 5 cases carried by these shopping sites or other sites mentioned in another post: Stylish Cases for iPhone 5C or iPhone 5S for Sale Online at Cheap Prices.
1. Retro Cassette Tape Silicone Case for iPhone 5 ($1.55, free shipping)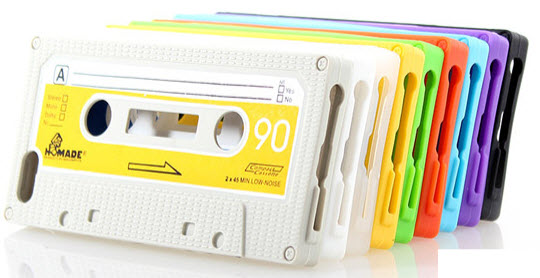 I love so much this cassette-shaped protective case for iPhone 5! Made of silicone, it is available in 9 colors (beige, black, blue, green, orange, purple, translucent white, white and yellow) at Fasttech.com, a Hong Kong based online shop best known for good quality made-in-China Apple accessories. Currently the case is on sale at $1.55 only plus free shipping. See details here >>
2. Special Design Knuckle Case with Stand for iPhone 5/5S ($4.99, free expedited shipping on orders of $30)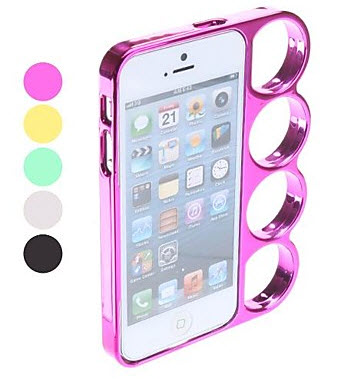 The knuckle design is the very spotlight of this iPhone 5/5S polycarbonate case. It is not just protecting the mobile gadget from any hurts but also used as a stand to support the gadget. With the double functions, the price for it can't be more reasonable. The case is offered by Mininithebo.com, a subsidiary shopping site of NYSE listed Chinese online retailer Lightinthebox.com. See details here >>
3. 3D Pineapple Design Silicone Case for iPhone 5/5S ($3.89, free shipping)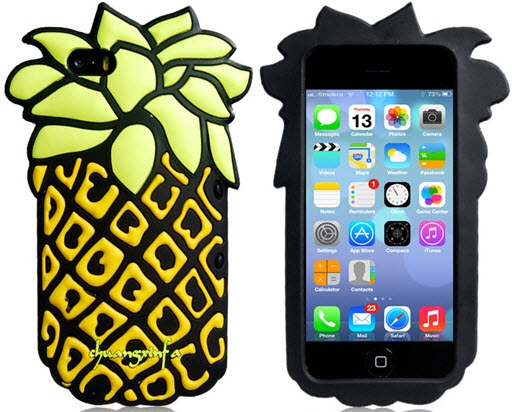 The distinctive feature of this iPhone 5 case is the pineapple pattern design. It fits those who love wood-made stuff and those who have a very special taste for fruit especially pineapples. Covered by this case, you iPhone 5 will definitely be an eye-catcher whenever and wherever you use the phone. It is offered by the famous Chinese electronic store Focalprice.com and it is only one of the best novelty iPhone 5 cases at the site. See details here >>
4. Flip Flop Slippers Sandals TPU Silicone Case For iPhone 4G, 4S, 4GS ($1.69, free shipping)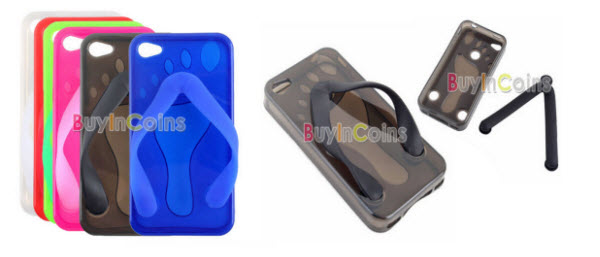 Can you imagine how fun it is when an iPhone 5 case becomes a flip flop sandal? I was instantly amazed by this novelty case when I saw it at the first time. The TPU skin case is a bit harder than normal silicone cases. The straps make it convenient to hold your phone when you are carrying it in hands. As a five-star best rated product at Buyincoins.com, it is out of stock from time to time. Just try your luck to see if it is available now. See details here >>
5. 3D Design Cute Pig Pattern Soft Case for iPhone 5/5S ($3.99, free expedited shipping on orders of $30)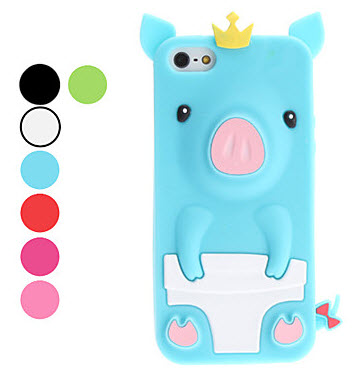 The silicone soft back cover for iPhone 5/5S is designed in a cute pig shape. As one of the top -rated cases at Miniinthebox.com, its lovely look makes it super popular among children and the young. Seriously, it can make the users feel happy whenever they see it. I personally believe that it is a great gift for kids and for those who love cartoon style gadgets. See details here >>
Note: the prices introduced above may fluctuate with sales. 
Leave a Reply