The first glance at the homepage of Fasttech.com makes me fall in love with the site instantly. For me, simplicity means more. The initial impression tells me that this is a cool electronic company serving global customers. Then, by a closer investigation, I further confirm that my feeling about the site does not lie to me. Below I am going to share about my personal review of Fasttech based on research.
General Info
It is a legit online store of electronics and accessories with a business license registered in Hong Kong in April, 2012, operated by CLOUD COMMERCE SYSTEMS LIMITED. Although it leaves a Hong Kong office address at its website as its corporate mailing address, I seriously doubt it. I guess its head offices are actually situated in Shenzhen, just like many other Chinese international electronic shops do. Anyway, so far I haven't got any evidence for that and I don't think it is a big deal for customers.

Compared to its competitors, Fasttech.com seems to be more employees-oriented by offering its staff a pleasant workplace, attractive and fair welfares and equal development opportunities. Its office look so modern that I believe its staff should enjoy working there in such comfortable workplaces. From my point of view, only when a company cares about how its employees feel about the working environment, can it be a really cool corporation that will finally achieve success. I admire this quality very much, be honest.
Also, I am quite surprised to find how open and honest this Chinese online store is after reviewing its forum and the customer reviews. The moderators of its forum are not its internal staff but its international customers. Every thread is posted out there without any moderation. The customer reviews, likewise, contain all kinds of customer ratings and opinions instead of just good reviews.
Major Product Lines
From the homepage ads, it is easy to recognize that Fasttech.com currently focuses more on offering cool electronic gadget accessories though it also carries cool gadgets like mini tablets or Android cell phones. From this perspective, it is very similar to Miniinthebox.com, another famous Chinese electronic accessory store. After checking its catalogs one by one, I realize that it is a truly online shopping mall for mobile phone and tablet PC accessories. There you can find any type of accessories for world top brands like Apple. For instance, the typical accessories for Apple there include protective cases, covers, skins and armbands, earbuds & earphones, cables & chargers, DIY parts & tools, holders & stands, stylus & touching gloves, screen protectors, attachments & docks, USB chargers, speakers and more. Every product looks unbelievably cool both in appearance and in pricing. It has a number of novelty cases and stands for iPhone 5 which are really adorable.
Prices and Free Shipping
I don't need to compare prices offered by Fasttech carefully before I make the conclusion that its prices are very competitive. I've been doing research on Chinese online stores since 2009 and am quite familiar with the pricing policies adopted by various companies. Just give a quick look at its cases and armbands for iDevices and you will be shocked to find how cheap they are. Some are even available at under $1 plus free shipping! At Fasttech.com, all orders (including drop-shipping orders) of whatever size are shipped via Airmail free of charge to any destination of the world. Very large orders will be upgraded to Speedpost Global Express and you don't need to pay any shipping fee, either.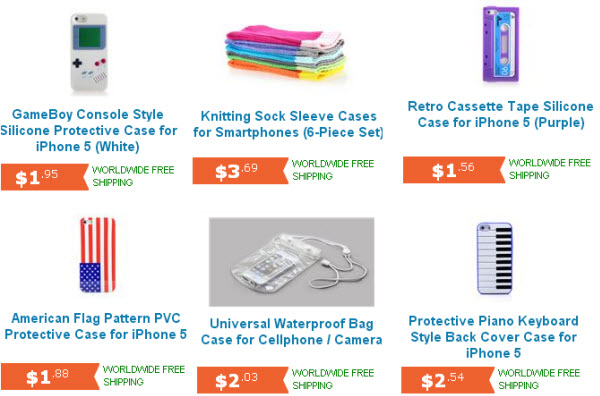 Customer Support
It is a bit annoying that Fasttech does not indicate an official customer contact email and you have to register an account there before asking its customer team any pre-sales questions. After you open an account there (which takes seconds to finish though), you can send inquiries to its service people and they promise they will respond in 1 business day. The quickest way to reach Fasttech customer support is to call them at +1 (845) 262-3440 during their office hours: Monday to Friday, 9:30am to 4:30pm Hong Kong Time.
If you are interested in shopping with Fasttech.com, visit the site here.