Swimwear is now Dominating the Summer Market
Swimming, having a beach sunbath or doing other water sports is definitely one of the most popular activities during the sizzling summer. For this reason, every year wholesale swimwear business reaches its peak through April to September. And this year is not an exception—the best-selling season of wholesale swimwear and swimsuits has already arrived.
Now in street shops, supermarkets, shopping malls, beach stores or online shops all over the world, swimwear has become one of the most eye-catching items. From high-end brands to not-so-famous brands, from petite size swimwear to plus size swimwear, and from women's bikinis, men's swimwear to kids' swimsuits, people have so many options to choose from. But still, many get lost in the sea of swimwear when shopping their swim apparel. After all, it is hard to compare the quality and prices among so many choices of swimsuits from one store to another store.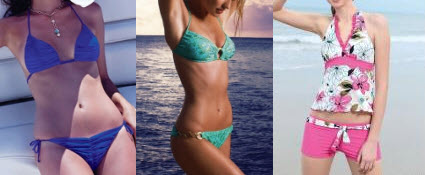 Where to Find Sexy, Comfortable Yet Cheap Swimwear?
That's why online shopping becomes the increasingly popular way to buy sexy, comfortable yet cheap swimwear. Besides, as more and more China-based wholesale stores offer low wholesale prices for small orders, both wholesalers and retailers as well as end consumers start to shop swimwear direct from such online shopping websites. Even if you buy one piece of swimwear for a single order, you will be able to get an unbeatably low price. Plus, free shipping or low shipping fee is extensively available so you don't have to worry about the high international shipping fee at all. How about the quality? Just see the swimsuits available on most of your local stores, you will know how the quality of the swimwear available on the majority of China's online wholesale stores, as most small and medium-sized swimwear retailers source their items from these stores too!
Of course, among the vast array of online swimwear suppliers in China, some are good while some are not so good. Here we would like to compare three China-based online wholesale websites that offer swimwear to global buyers. Hope the information we provide below can give you some hints on buying wholesale swimsuits from China.
Click the links to view the details:
2 Responses to "Wholesale Swimwear Review: Where to Find Sexy, Comfortable Yet Cheap Swimwear?"
Wholesale Sexy Swimwear on Lightinthebox.com Says:
October 6th, 2011 at 3:52 am

[…] of swimwear in its Water Sports category. There you can find both women's swimwear and men's swimwear, but the majority is women's swimwear, just like some other wholesale stores offering […]

Wholesale Alert: Best Deals on 2011 Bikinis and Swimwear Says:
October 8th, 2011 at 10:32 pm

[…] that come in popular styles. Now the 2011 summer is approaching fast and it's time to stock up on swimwear for your summer […]
Leave a Reply