When it comes to Christmas decorations, we all know that most of the world's Christmas decorating items come from China. As a tradition, every year, a great number of resellers would definitely choose to stock up on Christmas supplies including Christmas decorations from Chinese suppliers, be they stores or factories.
In the past few months, we've introduced some trusted China-based online stores, including Lightinthebox, Milanoo, AliExpress, DavisMicro and ChinaVasion, to shop best Christmas gifts for women, men or kids. This time, we are going to guide you to the best one-stop shop of Christmas decorations 2010: AliExpress.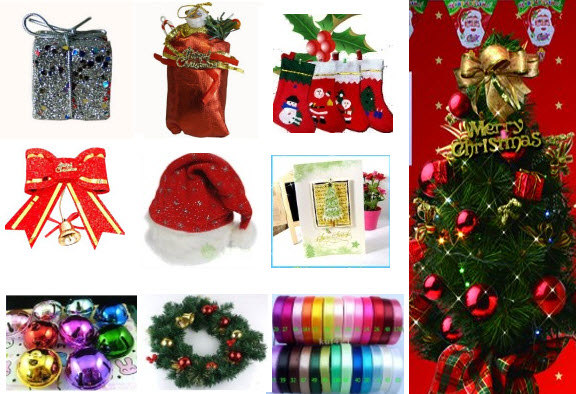 For our old readers, you should be quite familiar with this popular wholesale platform. As a special transaction channel subordinated to the world's international e-commerce forerunner, AliExpress is well known for its quality suppliers, complete services and high credibility. It has a huge Christmas channel offering all kinds of Christmas supplies and promotions are launched in different forms regularly.
In particular, in its Christmas Decorations category, there are a total of 12 sub-categories, including Christmas lights, Christmas stockings, Christmas trees, Christmas wreaths, Christmas gift boxes, Christmas balls, Christmas ribbons, Christmas balls, Christmas cards, Jingle bells, Santa hats, wrapping papers and other Christmas decorations. You can find just everything that can turn your home into a place full of festive atmosphere.
Some of the Christmas decorations 2010 are on sale in the Crazy Prices Countdown zone, where special discounts are offered for one day only. If you are interested in buying Christmas decorations there, you are encouraged to check the zone every day to find best deals. Also, you can try negotiating with the seller you want to trade with for a better price. As long as you successfully find out the best suppliers, you will surely get a pleasant shopping experience and get satisfactory items delivered to your door without much effort. To identify top sellers, you can read the website's instructions introduced on their official Blog.
By the way, though AliExpress is a wholesale platform, we believe that it is a great marketplace to shop personal stuff too. Some of the sellers may require a minimum order quantity bigger than 1 piece, but for a family's Christmas shopping, for example, we do need more than 1 gift box, right? In some cases, you can get retail orders at equally low wholesale prices—just check what their MOQs are. On the other hand, generally you can get an even lower wholesale price if your order quantity gets bigger. The more the order, the better price you will be able to enjoy. Most have clearly displayed different prices for the same item on the product detail page, but you can still try discussing with the sellers to ask for a more acceptable price.
Good luck with your shopping for Christmas decorations!
Leave a Reply