There's a chill in the air and loads of hot fashion winter boots have already been well showcased on the shop shelves. As people say, get the things you may need ready in good time, time you checked out the hottest winter footwear for this coming fashion season.
From booties to ankle boots to knee-high boots and to thigh-high boots, there're lots of styles to choose from. Some classic silhouettes remain as hot as before while some make their glorious comeback after years' retreat from the fashion arena. Before you go shop some statement fashion winter boots for your wardrobe, have a look at my top picks in this winter's most trendy boots.
1. Fringe Knee-High Boots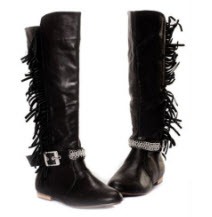 With the decorations of fringes and straps, the flat knee-high winter boots are classic and chic enough to wear around the whole winter. They will be definitely flattering and attractive on slim legs. At the same time, the long shafts are really practical for keeping your legs warm on cold days. Versatile and attractive, such knee-high boots look great with skirts or dresses, or with jeans or leggings tucked into them.
Buy it from Lightinthebox.com >>
2. Fur Ankle Boots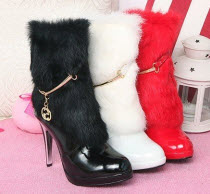 If, like many girls, you are keen on winter boots accessorized by some neatly-positioned fluff, this pair of fur ankle boots would be your cup of tea. The soft and cute fur as well as the metallic embellishment endows the ankle boots with a sexy and fashionable look. In addition to keeping your legs warm from the winter coldness, the sexy ankle boots will certainly make an entrance with long or short jeans or skirts.
3. Patent Leather High Heel Evening Booties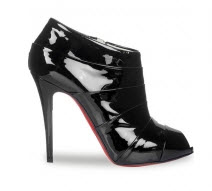 These slick high heel evening booties in patent leather will look perfect when paired with a simple cocktail dress. Any evening dress that features a demure cut will be a great fit for this style of booties – of course, you need to make sure that the black color matches well with the color of the dress.
4. Suede Upper Fold-Down Rhinestone Ankle Boots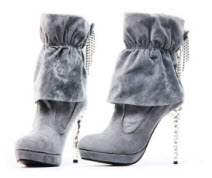 Embellished by lovely rhinestones, the suede upper ankle boots look amazingly elegant with crystal high heels. The fold-down design of the shaft is a hot trend in 2010/2011 winter boots. Easy to wear and refreshing, the leopard grain cloth ankle boots are perfect both for creating a casual look and for fitting a special occasion.
Buy it from Lightinthebox.com >>
5. Navy Green Sheepskin Thigh-High Boots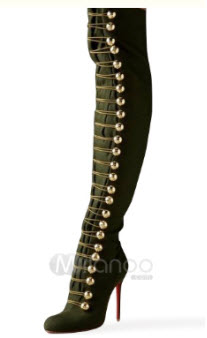 Wearing this navy style thigh-high boots with a mini skirt or a short dress, you will be absolutely the focal point in the street. They eye-catching long shaft is designed to flatter the beautiful curves of your legs and the studs, on the other hand, add more fun to the sheepskin thigh-high boots. Wanna be in the spotlight anywhere you go? Then you should really try these cool thigh-high winter boots!
All fashion winter boots introduced above are found from some famous online shops, including Lightinthebox.com, AliExpress.com and Milanoo.com. Please note that most of the boots available in these stores can be custom-made based on your specific measurements. In addition, as some of them offer lower prices for bigger orders, if you order more than 1 piece, be sure to negotiate with them for a better price!
More Fashion Winter Boots on Lightinthebox.com >>
More Fashion Winter Boots on Milanoo.com >>
More Fashion Winter Boots on AliExpress.com >>
P.S. Before you shop any of the stores, do remember to check if any coupon code is available for saving money.
Lightinthebox Coupon Codes >>
Milanoo Coupon Codes >>
AliExpress Coupon Codes >>
Images courtesy of Lightinthebox, AliExpress and Milanoo.
Leave a Reply