If you think the regular keyboard case stands are too boring for your new iPad, the novel faucet shaped stand may be a good choice. I saw this lovely device at my friend's home. It was an embarrassing experience though. When I stepped into the living room of the friend's, I suddenly saw the flowing water and rushed to turn it off. My friend stopped me gently with a big laugh, "Haha, you are cheated too. It is just a stand for iPhone or iPad!" I then looked closer at the cute stuff and was amazed by the creative design.
In case some of my readers are interested in this faucet-with-flowing-water-shaped stand, I did some research on the shopping sites which are most familiar to me. I noticed that this practical phone or tablet PC stand is offered at slightly different prices by various sellers. Besides prices, the stands also vary in brands, manufacturers or colors. Honestly, I don't think they have any significant differences in quality although they are produced by different factories. Generally, small gadgets like this one require low technology and won't differ much from each other in terms of quality standards. So my advice is: choose a reliable online shop and then stick to better prices when you decide to shop for a faucet-shape stand for your iPhone, iPad or any other tablet.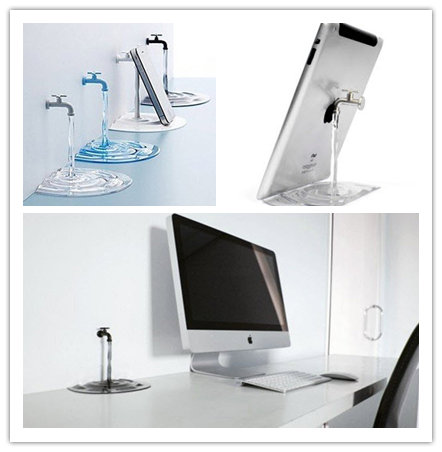 I discovered three legitimate Chinese shopping websites which sell this novelty stand: Aliexpress.com , Focalprice.com , Miniinthebox.com  (or Lightinthebox.com). In particular, the wholesale trading website Aliexpress.com carries the widest selection of faucet-shaped iPad or iPhone stands. There the prices for the stands range from $3.93 to $10.70 per piece. Free shipping is offered by some of the suppliers. Although the site mainly serves merchants who purchase in bulk, most products are available with no MOQ while some may require a small MOQ. Even if you are a consumer looking for low priced products for your personal use, Aliexpress is worth taking a look. In addition, you have several colors to choose from there. Take a look >>
However, the risk is, you may encounter one or two dishonest sellers or scammers though Aliexpress claim they have verified the sellers when they apply to register with the site. To avoid the risk, you are encouraged to do some extra research on the credibility of the seller you want to trade with. In addition to checking their feedback profile especially customer reviews, you can also search Google for more detailed comments on the company.
Comparatively, buying the faucet stand from Focalprice.com or Miniinthebox.com should be more hassle-free as they are tested suppliers who have full control over all pre-sale or after-sale issues. However, the prices they offer are slightly higher: $13.03 with free shipping at Focalprice.com and $14.99 with free shipping at Miniinthebox.com. Besides, the color options for the stand are limited in either store.
Leave a Reply