Xiaomi S2 is a truly high-end smartphone designed and manufactured all by the Chinese. It is the currently best rated Chinese smartphone with an ever-growing fanbase across the country. As the latest model of the Xiaomi company, Xiaomi S2 has all the advanced features that are able to satisfy smartphone geeks who really want to get the best out of their phones: to shoot photos or videos, surf the internet, connect with the social networking worlds, access GPS, tag geo, map the destinations and to do lots more activities other than making phone calls or messaging. Users have been complimenting on the great performance of the gadget too. As a Xiaomi S2 user, I have to say that the gadget well exemplifies what I define as "a state-of-the-art Chinese smartphone".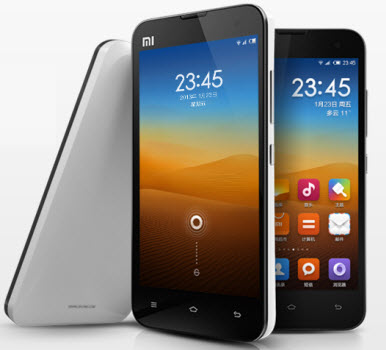 Xiaomi S2 is available in both 16GB and 32GB configurations. Not only is the storage larger with the 32GB version, the camera and video function is also better. Prices for the two versions vary by around ¥300 RMB (=about $30 USD). I chose the 16GB simply because they don't have a 32GB version that fits the China Telecom mobile service, which I purchased as a service attached to my home telephone and networking package. If you ask me about my personal impression on Xiaomi S2, I have to admit that so far so good and I've fallen in love with it.
With a colossal array of in-depth features and fast, smooth and impressive performance, Xiaomi MI2 is often compared to world top smartphones such as iPhone 5 or Samsung Galaxy S3. The most common conclusion is: it is equally amazing in terms of functions and performance while its price is only half of that for an iPhone or a Samsung. In China, while iPhone and Samsung models become more and more common among the consumers, the customer base of Xiaomi is growing even faster. Most choose Xiaomi instead of iPhone or Samsung because of the high cost-effectiveness. When we can spend less money to get the same good stuff, why not? Anyway, a small number of Chinese users of Xiaomi go for the gadget simply because they want to stay loyal to Chinese brands. Indeed, Xiaomi S2 is a remarkable product that makes the Chinese feel proud of. It enjoys the same kind of reputation and customer commitment that Apple or Samsung enjoys in the western world.
It seems that Xiaomi people do not rush to expand the global market and so far their models are sold only within the Chinese domestic markets though they do support multiple languages. Even in China, you have to grab a ticket online in order to buy a Xiaomi device. Anyway, some Chinese international sites do sell Xiaomi S2 to buyers around the world. I notice that some re-sellers at Aliexpress.com (read review of the site) grab the tickets from Xiaomi.com site to source the products every day for their inventory. For this reason I believe that the Xiaomi S2 models are quite limited in quantity for the international market.
For global buyers, you are encouraged to get the original Xiaomi S2 at reputable sites like Dinodirect.com (read review). The online store which offers $479.69 for 16GB MI2 and $514.39 for 32GB MI2 with free shipping — I am not sure about how they get the cell phones but I know they are a serious business selling authentic branded products. The site offers coupon codes very frequently and you can search for Dinodirect coupon code for more savings when you consider buying a Xiaomi S2 there. Many Aliexpress.com sellers also offer Xiaomi S2 at different prices. Given so many choices, you are more likely to find the best deal on Xiaomi MI2 there. However, as Xiaomi S2 is getting really popular in China, Xiaomi clones have come out so you may need to use extreme cautions when shopping with a transaction platform like Aliexpress.com. You know, the quality standards of the sellers within the same site can vary quite significantly and you should understand that there is possibility of encountering scammers if you are not careful enough. Anyway, Aliexpress.com itself is a legitimate site and if you do see a Xiaomi S2 offered at a price you are pleased with there, what you need to do is to confirm on the credibility of the seller first. You can check the feedback score of the seller and dig out the details in order to confirm whether he or she is reliable or not. Normally, a scammer is not able to stay at the site for a long time as the complaints from buyers would help the site kick dishonest sellers away. See the Xiaomi MI2 available at Aliexpress.com >>
At the same time, I see a great business opportunity Xiaomi brings to smartphone re-sellers outside the mainland China. It is true that the brand is little known to the world market at present. However, the premium quality and superior performance makes it a highly competitive product that I bet consumers from other countries or regions will just love it as much as iPhone or Samsung Galaxy. Let's wait and see – one day they will hit the world!
I personally am not a gadget geek so it is quite difficult for me to talk about the detailed specifications or the performance standards of a smartphone like Xiaomi S2. But as a real user of the popular Chinese model, I should say it is far exceeding my expectation in terms of functionality as well as performance. I used an iPhone years ago and through the comparisons between the two gadgets, I feel that Xiaomi S2 is not at all exterior to an iPhone model, though they are using completely different operating systems.
Here are the major highlights that make Xiaomi S2 stand out:
Standard-sized SIM slot
Long-lasting 2000mAh battery;
Sleek and solid body with a fashionable appearance;
4.3-inch screen with 1280×720 IPS display;
Customized MIUI 5 OS based on Android 4.1, updated constantly as the latest Android operating system is upgraded.;
Built-in file manager with FTP sharing;
Built-in back-up utility;
Supports over-the-air firmware updates;
Performs effectively with playing 3D games;
A perfect merging of Android and iOS functionality;
8MP rear-camera with autofocus and LED flash and 2MP front-camera; the dual cameras are empowered by features like geo-tagging, touch focus, face detection, image stabilization, HDR or panoramic photography; the photo and video shooting performance is rated as enthusiast-pleasing levels of satisfaction.
For more detailed specifications of Xiaomi S2, you can click here.
Leave a Reply