Looking for top deals on 2013 Halloween costumes? Then you can't miss out the up to 50% off selection of Halloween costumes offered by Milanoo.com. Although I've introduced a few legit Chinese stores (e.g. Fancyladies.com, Myesoul.com, etc.) where you can shop costumes for Halloween, Milanoo.com is always the best of the best when it comes to buying best valued costumes from China.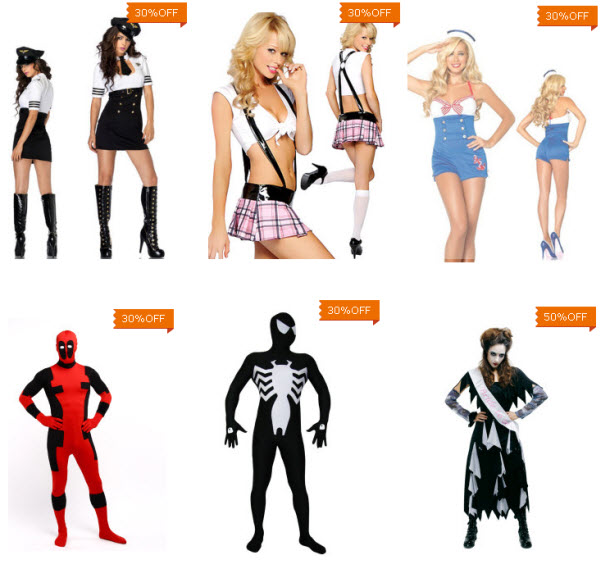 Every year the famous Chinese online store launches sales on costumes when Halloween is approaching. During this period, you can get the best deals on costumes as the discount scope for their costumes is usually the biggest of the whole year. If you already read my review of Milanoo.com, you may have been aware that the site starts their online business from selling all kinds of costumes including Lolita dresses, cosplay costumes, Zentai & Catsuits, mascots and more. It should be the most professional online costume supplier based in China. If you want to buy quality costumes for Halloween, Christmas or any other occasion or festival at reasonable prices, Milanoo.com is definitely a good choice.
Generally, the Halloween costumes select for promotion are either hot-selling styles with best customer ratings or new arrivals. You can read the customer reviews of the styles so that you can get a better idea of how the item is in terms of quality standards or how their customer service is. If you still haven't come up with any good Halloween costume idea, the collection may inspire you with so many lovely styles to choose from: Lycra super hero costumes, Lycra spandex zentai suits inspired by Spiderman, unisex front zip PVC catsuits, sexy queen costumes, leopard catsuit wet look costumes, shiny metallic unisex zentai suits, sexy school girl costumes, sexy sailor girl costumes, sexy cop costumes, horror costumes, to name just a few.
Each costume at Milanoo.com is showcased with clear images and detailed descriptions including fabrics, shipping time, processing time, customer reviews, quality guarantee, size chart and more. Read the product description carefully so that you can buy costumes you want exactly.
Most of the discounted Halloween 2013 costumes available at Milanoo.com require a processing time of 3-5 business days and the express international shipping takes around 1-3 business days. Do remember to confirm on the timelines to make sure that the costumes will arrive on time for your Halloween party. At the same time, I would remind you to follow closely their sizing chart to buy costumes there. Otherwise, you may get a costume but find it not fitting your body, which could be a disaster for your Halloween plan.
Leave a Reply